2016 Art-A-Whirl: A Cheat Sheet
Mn Artists editor Susannah Schouweiler introduces a new series of profiles of NEMAA artists and offers a handpicked selection of Art-A-Whirl happenings from which to launch your exploration of the culture-rich neighborhood of Northeast Minneapolis during the 2016 open studio tour and festival
IntroductionThis is the first piece in a sponsored series of articles featuring member artists of Northeast Minneapolis Arts Association, a non-profit arts organization that works to build a more vibrant, diverse and economically healthy community through the arts.
---
Now in its 21st year, Art-A-Whirl expects more than 30,000 visitors to turn out for the 2016 festivities. It's the largest open studio tour in the country, showcasing art and wares by more than 500 Northeast Minneapolis Arts Association (NEMAA) member artists and organizations – in and around 50-some artist studio buildings and co-op spaces, galleries, storefronts, bars, and restaurants – throughout the arts-saturated neighborhood of Northeast Minneapolis. (You can access the NEMAA's 2016 Artist Directory and Guide a number of ways: there's still an online artist directory available via the website; the full guide, including a current directory plus scads of Art-A-Whirl vital info, can be had in print form at the festival's hub locations and outdoor information booths; this year, the Artist Directory and Guide is also available as a handy app.)
In recent years, the Whirl has grown well beyond its studio arts-and-gallery roots – it's now also one of the biggest weekends for local music performance in the Twin Cities, with a number of big-ticket headliners playing in locations throughout the neighborhood. A diverse mix of performers is on the docket this year: Jeremy Messersmith, Charlie Parr, Communist Daughter, Romantica, Babes in Toyland, the Brass Messengers, and lots more. (The Local Current blog has a helpful breakdown of this year's line-up of shows – with dates, times, and venues – if you're looking to plan your whirling around who's playing where.)
With droves of gallery hoppers descending on the neighborhood, parking is always tricky during the festival, but smart visitors can take advantage of free Metro Transit passes and trolleys running between Art-A-Whirl venues (find a full map of locations here) to make getting around easier this weekend. With so many performances and exhibitions on offer, it's a daunting prospect to try and take it all in. Below is a cheat sheet of sorts, just a handful of the highlights from the 2016 Art-A-Whirl, to help you figure out where you'll begin as you launch your own exploration of Northeast Minneapolis's art and artists.
The Solar Arts Building's "3 Floors of Glory" is a good place to start, packed with events all weekend long and within easy walking distance of a number of other big artist studio complexes (the Northrup King Building is just across the street, e.g.). On the first floor, find Indeed Brewing's Whirlygig shindig, where the focus will be on live music curated by the folks at First Avenue, beer, and food by Natedogs and the Blue Door Pub. The second floor studios will be hopping as well, with wandering minstrels and work on view by the Solar Arts artist community. The Chowgirls have set up a mod lounge on the third floor, featuring a pop-up marketplace with wares by local makers, fare by Chowgirls Killer Catering, and art by the Society of Minnesota Sculptors and others.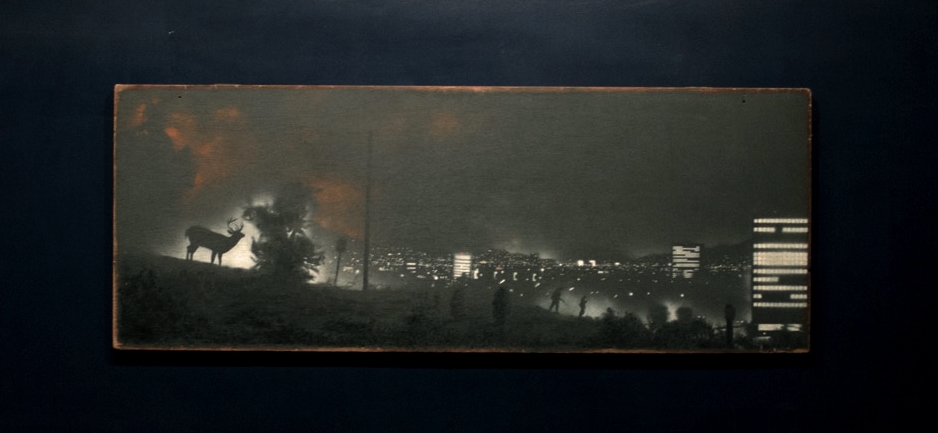 Don't miss Jon Oulman's multi-venue retrospective of work by artist John Bowman, the centerpiece of which is Crossings (1988), a moody landscape painting long in residence at the 331 Club, that was paid loving tribute by Andy Sturdevant in an essay for Mn Artists (later anthologized in his collection, Potluck Supper with Meeting to Follow, published by Coffee House Press). Visitors will find Oulman's exhibition of Bowman's work, After Crossings, spread across a number of sites in the metro area, including the 331 Club, the neighboring Sheridan Room, downtown St. Paul's Amsterdam Bar and Hall, Como Dockside, and yet-to-be-announced pop-up galleries. (Find full details here.)
Stop by Public Functionary, and you can catch the final days of a compelling exhibition of work by Minnesota-based artist Mark Schoening. Shape Shifter is a tease on the interplay between digital and analog spheres, with inlayed paper collages of virtual workspaces, trippy "feed" paintings, and a series of basic shop boxes comprising The Lexicon, which together make for an inventory of present and future ideas – a sort of analog storage drive. Time your visit for Friday evening, and you'll be able to hear live performances from The Longest Bridge at the CD release party in honor of the new EP by GP jacob (Jake Virden) and Mamadu (Toki Wright).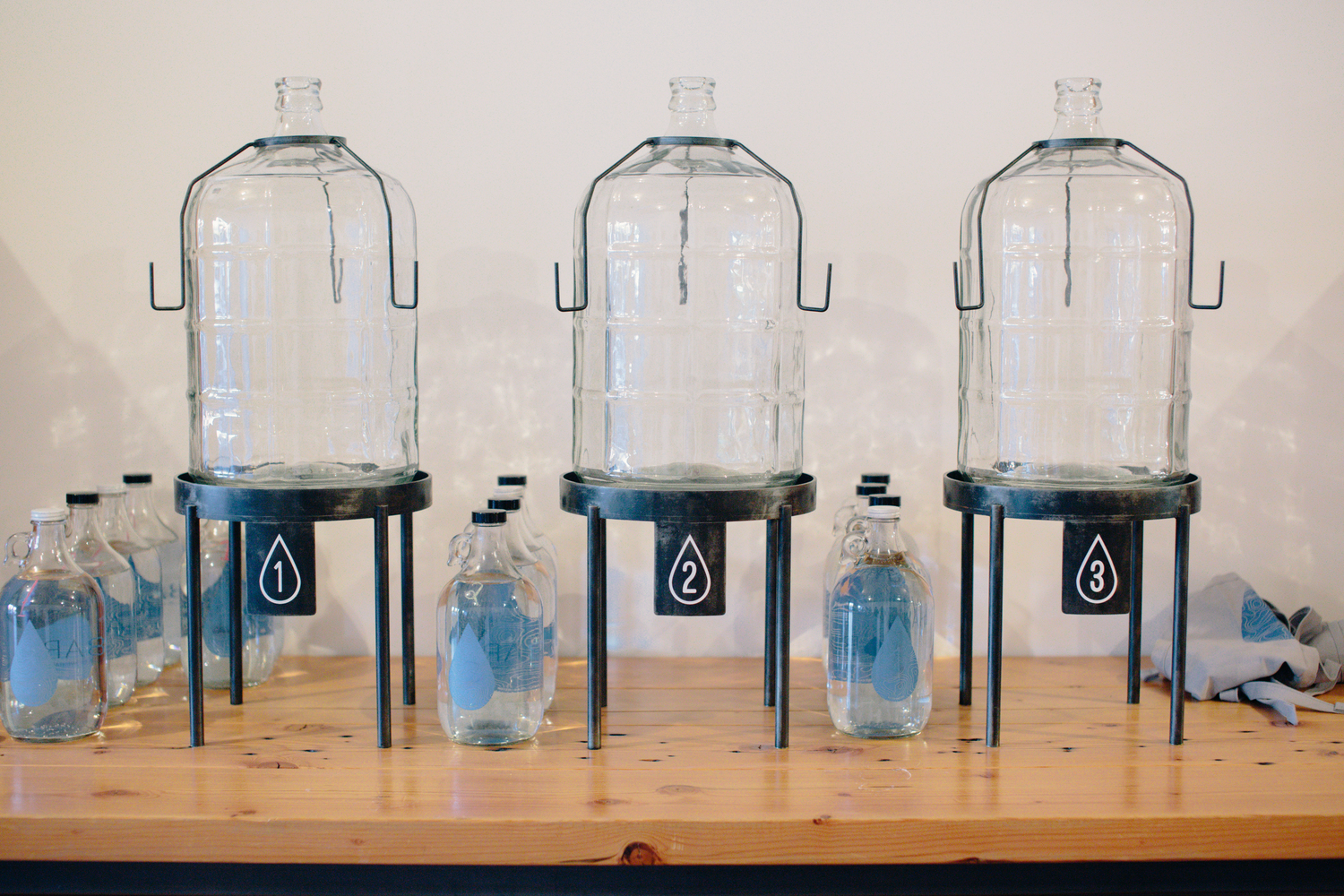 Sidle up to the bar for a tasting of what's on tap at Works Progress's just-opened Water Bar and Public Studio. Throughout Art-A-Whirl, the Water Bar will be open for business, with a roster of special guest bartenders on hand to chat about issues and concerns with local water quality and conservation, a "tap water clinic" where you can bring samples from home to test for lead and other contaminants, as well as a pop-up artist market, including a make-and-take printmaking workshop and a variety of posters, publications, and art works for sale by local makers.
---
Regardless of its growing breadth of peripheral offerings, at its core, Art-A-Whirl celebrates the intimate connection between local makers and patrons, artists and viewers. When NEMAA member artists throw open their studio and gallery doors, en masse, each year and invite the public in for conversation about their work, it's a prime opportunity for even casual arts lovers to sample some of the wealth and sheer variety of our arts community. It's still the case that artists, individual makers and what comes out of their studios, are at the beating heart of this annual, weekend-long sprawl of a festival.
With that in mind, this year, Mn Artists is partnering with NEMAA to extend your opportunity to get up close and personal with this community's artists, beyond the coming weekend's Art-A-Whirl extravaganza. Throughout the summer and into the fall, look for a series of profiles of NEMAA artists, a dozen in all, intended to take you into the studios and practices of just a sampling from the more than 700 artisans, artists, and designers who live and work in this culture-rich Northeast Minneapolis community.
---
Related information: for all things Art-A-Whirl, visit the NEMAA website, and you'll find transit information and handy maps, info guides and a directory of artists, and a full schedule of events happening through the three-day festival. Art-A-Whirl takes place throughout Northeast Minneapolis (and select locations elsewhere) on Friday, May 20 (5 – 10 pm), Saturday, May 21 (noon-8 pm), and Sunday May 22 (noon – 5 pm).