What are the Real-World Impacts of Creative Placemaking?
NEA, ArtPlace and others have poured millions of dollars toward creative placemaking projects in the Twin Cities in recent years. Sheila Regan looks into a few such efforts in Minneapolis, asking: What are the street-level results of those investments?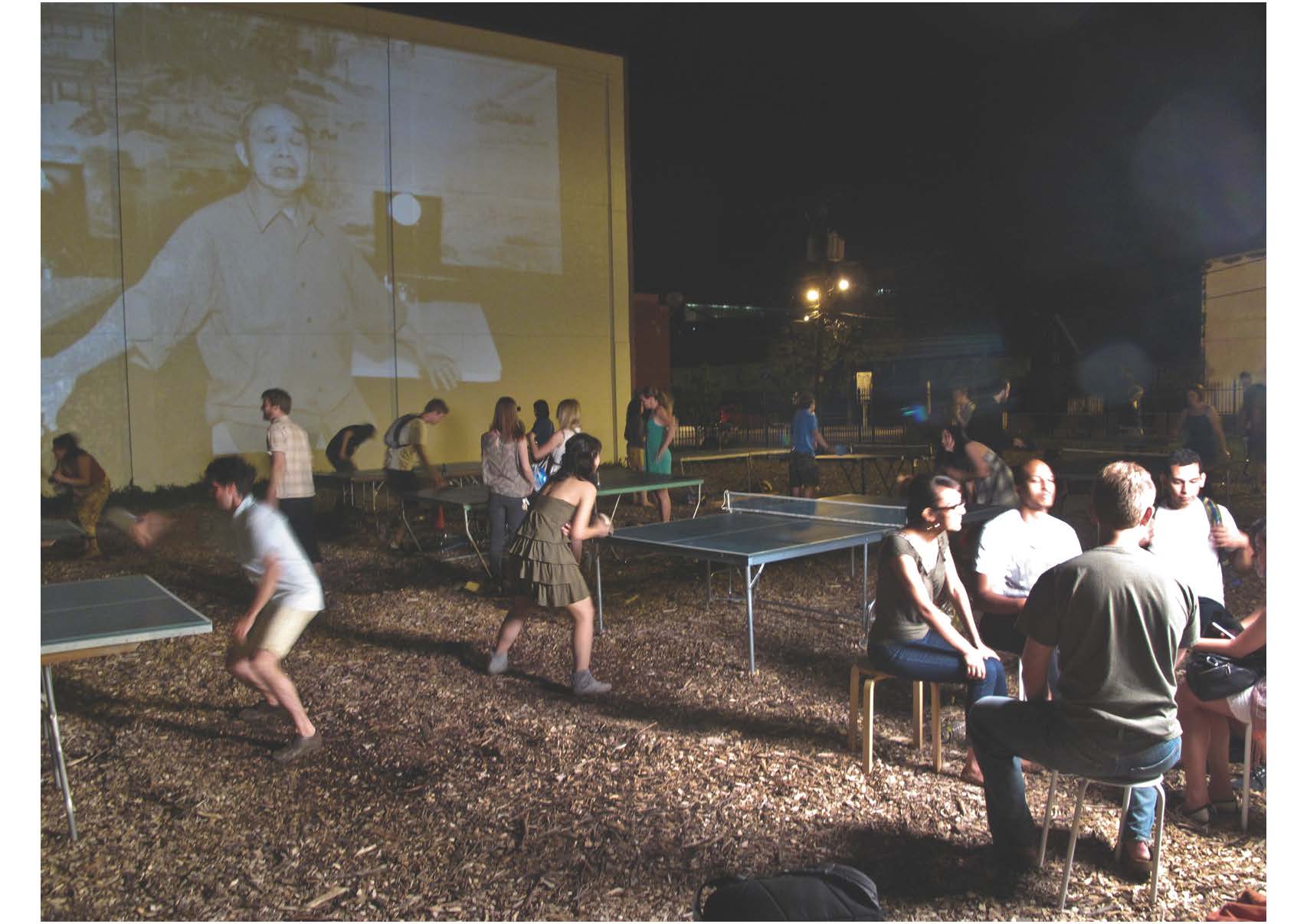 The notion that art and culture shape communities and bring people together has probably been around as long as people have been making art, but in recent years the spotlight on the arts' civic impacts has grown brighter. Creative placemaking — arts programming undertaken by public, private, nonprofit and community entities with the express purpose of shaping neighborhoods, cities and even regions — has dominated the field in the arts funding arena over the past few years. Such projects began to gather momentum with the National Endowment for the Art's Our Town grants beginning in 2011. The NEA's placemaking funding initiative was soon followed by similar grants from ArtPlace, given out by a national consortium comprised of both public and private funders. Some critics decry creative placemaking for its shift in focus away from funding according to standards of quality or individual achievement in the work; indeed, these new creative placemaking grants are geared toward arts projects that aspire to concrete economic, or "livability" impacts in the community. There's also been vocal concern about resulting gentrification in the areas where such projects are implemented. But the continuing cash infusion available for community revitalization via the arts makes it clear: creative placemaking isn't going away anytime soon.
Minneapolis and Saint Paul have been leaders on this front. In 2012, ArtPlace funneled $1.3 million into Twin Cities organizations to support placemaking activities. Specifically, Pillsbury House + Theatre received $250,000 for Arts on Chicago, an initiative that provided mini-grants for creative endeavors led by artists in the Powderhorn, Bryant, Central and Bancroft neighborhoods. That same year, Intermedia Arts and the City of Minneapolis received $325,000 from ArtPlace for the Creative Citymaking Project, where artists teamed up with urban planners to engage communities about neighborhood decisions. The Native American Community Development Institute also received funding for a placemaking project, called Anpetu Was'te Cultural Arts Market, as did Public Art Saint Paul for their City Artist in Residence program in collaboration with the City of Saint Paul.
Creative placemaking reframes the principles of arts funding, asking artists and arts organizations to think beyond creation of stand-alone art and programming to questions of how that work can benefit a community, what experiences they can create that will increase a neighborhood's vibrancy. Here, art is not itself an end goal; rather, it's the process of building civic connections through the art-making that is the priority. The work is a means to spurring economic vitality, health and civic well-being.
Photographer Wing Young Huie received funding to participate in Arts on Chicago in its first year. Huie, who now also serves on its advisory team, has made a career of documenting underrepresented communities and neighborhood life. By way of big projects like Lake Street, USA and the University Avenue Project, Huie has photographed many neighborhoods, but says, "I was never part of the neighborhoods I was photographing." And that's why he opened the Third Place Gallery on Chicago Avenue seven years ago. His old studio in the Seward neighborhood was more tucked away, and he says he sought a storefront presence visibly part of the activity in the surrounding community.
Through Arts on Chicago, Huie created a photography project, We are the Other, which involved introducing his neighbors to each other, and it cemented this new direction in his work. Producing photographs used to be the main goal, he say. In We are the Other, his emphasis was on forging new connections. "This was hyperlocal," he says. "I was trying to get to know my own neighborhood."
Huie also participated in Intermedia Arts' Creative Citymaking project, for which he collaborated with theater artist Ashley Hanson and Minneapolis urban planner Jim Voll to arrange opportunities to get community feedback for the Penn Avenue North "Small Area Plan." Huie asked himself: "How can my process be valuable for urban planning?"
The Creative Citymaking project specifically sought to find alternatives to the usual ways of getting neighborhood feedback through community meetings and public engagement sessions. Huie, Hanson and Voll worked up a variety of programs to elicit community input — from theater projects on buses to ping pong sessions and pop-up galleries, community newspapers and more. They collected data from chalkboard writings by area residents and through conversations arising from improvisational theater. According to Voll, Hansen and Huie created a convivial, informal setting where people tended to be more relaxed than they would be in the context of more formal community talkback sessions. He says the two artists were "super friendly and nice," and their whole approach to getting residents' feedback on the project was just more fun.
Though the collected data still needs to be processed, Voll deems the Creative Citymaking project a success. The city received more than 200 comments for the Penn Avenue North "Small Area Plan" alone, and many people who contributed their thoughts aren't the sort who typically come to open houses. The artist-led events effectively created a space where "people felt much more comfortable than they would at a public meeting," Voll says, and he adds that the information gleaned will be valuable in making city decisions.
Another Creative Citymaking artist, Caroline Kent, whose separate project in Linden Hills and Dinkytown involved creating a mobile theater and a zine, drew similar conclusions. In her mind, the largest takeaway from her involvement with the program was that "you can create a physical structure or thing that can be a real catalyst for engagement.
Placemaking and Crime Reduction
In her white paper on placemaking for the Mayor's Institute on City Design, which is quoted in the NEA's definition of "placemaking," Ann Markusen lists public safety as one of the benefits of placemaking, citing research that in cities such as Philadelphia the presence of artists and art-making lowered crime rates, while also raising area incomes and stabilizing neighborhood diversity. Mike Hoyt, the cultural community liaison for the Arts on Chicago project, notes that there's been a 75% drop in crime around the 38th and Chicago area in the past 10 years, and a 50% drop in the last three years. But just how much of that can be attributed to the ramped up arts activity in the area is unclear: "There are a bunch of different factors playing against each other," he says. For example, a $250,000 grant is a drop in the bucket compared to the cost of 10 new stoplights in the area or other infrastructure improvements. "It's really difficult to draw a straight line from funding for an arts project to a decrease in crime," he says.
Samir Abumayyaleh, owner of Cup Foods, opened his store in 1989 and, for years, he says he struggled with high levels of crime, in the neighborhood and at his store itself, which sits next to Chicago Avenue Fire Arts Center and across the street from Huie's Third Place Gallery. He says the neighborhood is a lot safer now, but he attributes that more to increased police presence in the area than to the arts activities. The police "cleaned up a lot of the gangs and criminals that were here," he says. "That had a big impact."
Not an overnight transformation
The typical grant cycle is speedier than community change — on the ground, lasting improvement of a neighborhood is a gradual process. Take Franklin Avenue, in the Phillips neighborhood: a target for another 2012 ArtPlace grant received by the Native American Community Development Initiative (NACDI). The organization is creating the Anpetu Was'te Cultural Arts Market, which aims to be a pedestrian-friendly gateway to the Franklin corridor, linking the Franklin Avenue Light Rail Station to businesses and development along the thoroughfare. Since 2007, NACDI has been working toward rebranding Franklin Avenue as the "American Indian Community Cultural Corridor," hoping to build vitality in a neighborhood that, historically, has been home to a significant American Indian population. NACDI's programs have included establishing All My Relations Gallery, when Ancient Traders Gallery was forced to move from its previous parent organization.
But to understand the change that Minneapolis' Phillips neighborhood has gone through requires looking farther back. In the 1990s, this area south of downtown, home to a large Native population ever since the Indian Relocation program of the 1960s, struggled with crime and was home to a whole string of bars along the avenue. Improvements to the area, especially along Franklin Avenue, can be attributed to multiple organizations and leaders working together to beautify the area and use cultural programs to make the streets safer and friendlier long before placemaking became a buzzword. When NACDI opened All My Relations Gallery in 2011, it was simply the latest in a long series of projects using art to engage and enrich their community.
As part of NACDI's Ampetu Was'te initiative, Anishinaabe artist Francis Yellow designed decorative railings to be installed underneath the light rail, while Native artist Gordon Coons designed a stage that will be used for performances. In addition, Heid Erdrich and Vincent Moniz Jr. are leading a public poetry project to go on the marketplace's sidewalks. All of these are efforts to beautify the neighborhood by tapping into the Native culture already embedded in the Twin Cities.
Andy Hestness, Vice President of NACDI, says the Ampetu Was'te initiative, which was delayed due to damage from city construction, also aims build better relationships between the Phillips and Seward neighborhoods, which are separated the light rail and Highway 55. Working closely with Transit for Livable Communities and the Minneapolis Bicycle Coalition, NACDI has been part of a planning process for making the Franklin Avenue light rail station more widely accessible, including the addition of both pedestrian and bike amenities. NACDI has consistently sought to align community goals and street design with their own project. "We are interested in making Franklin Avenue safer and more beautiful," Hestness said. Their hope is that the Arts Marketplace will be a place where Native artists will be able to purchase and sell artwork, but also, more generally, a welcoming gathering space for residents in the surrounding communities.
David Duckler, owner of Verdant Tea in Seward, hosted a meeting at his shop about NACDI's plans. He describes the area between the two neighborhoods, as it is now, as a kind of dead zone. "There's a lot of abandoned spaces," he says. Duckler looks forward to NACDI's changes: "Anything we can do to take a stop around the light rail that's skipped over and give people a reason to get off and explore our neighborhood is a positive."
'People data'
Vince Moniz, a Native poet who grew up in Phillips but now lives in the Longfellow neighborhood, says he still feels connected to what he calls "Indian Town." Besides his involvement with the Arts Marketplace, he has also hosted events at All My Relations Gallery, bringing in nationally known poets to provide opportunities for the local Native community to connect with the national Native literary scene.
Moniz says he hopes to see more communication between NACDI and city leaders and neighborhood residents. While NACDI does hold regular meetings, Moniz said more can and should be done to reach people at gathering places like Little Earth. Often, he says, there's too much focus on helping a few businesses or nonprofits, and not enough emphasis on the residents. Moniz suggests "a community meeting at Powwow grounds to get actual input."
That's something that Arts on Chicago project participants are trying to get a better handle on, too. However, measuring the impact of arts activities in a community can be difficult, in part because the indicators usually have more to do with economic data than with "people data," Hoyt says. To that end, Pillsbury House + Theatre is interested in collecting long-range data about their sustained work in the community, to get a fuller picture.
On Chicago Avenue, Cup Foods proprietor Samir Abumayyaleh would like to see placemaking projects put as much emphasis on being good neighbors as they do on the art-making which has proliferated in his neighborhood. He says he gets frustrated that so many of the new artists coming into the area for placemaking projects don't bother to get to know the residents better. He doesn't see much of them in his store. While he has a good relationship with Huie, whose studio is across the street, other artists "walk by and they don't say hi," he says; they don't come to community meetings. "I love art," he says. "But people involved with it [here] don't have the art in dealing with neighbors."
In partnership with the University of Minnesota's Humphrey Institute, Pillsbury House + Theatre (PHT) is developing its own set of indicators of success. According to a 2013 Humphrey Institute Report, the typical indicators, including census and US Bureau of Labor statistics, often miss "the richness of community level data," the report states. Instead, social scientists recommend getting feedback through surveys. PHT is looking to better measure people's connection to the arts activities on and around Chicago Avenue. They're asking questions of residents like: Have you met someone new at one of these events? Have you been inspired to overcome differences with a neighbor? Do you feel empowered, yourself, to affect neighborhood change after participating?
Gentrification
Some of the loudest criticisms of placemaking efforts argue that such investments lead to gentrification, as evidenced by places like New York City, where high populations of artists and art activities make an area more attractive, thereby driving up rents and property value. Since Pillsbury House + Theatre first began Arts on Chicago, it's addressed the issue of gentrification head-on. Through its Breaking Ice theater program, the organization even created work on the topic. It's tough because "gentrification is such a divisive issue," Hoyt says. But through such creative programs, "[we want to offer] an opportunity to have a more nuanced discussion about why people feel displaced or dislocated." And Hoyt says the community seems to be responding to those efforts: "[the programs have] brought a lot of different people into a space to have these kinds of conversations."
One Pillsbury House survey respondent, a five-year resident, said she'd long avoided area businesses because of a fear of violence. She specifically called out Huie's Third Place Gallery as a site that dramatically changed her perception of the 38th and Chicago corner, Hoyt says.
But Pillsbury House receives criticism from people in the neighborhood as well as praise. One neighbor wrote on the back of a theater flier: "I can't afford your plays!" even though all of theater's productions are pay-what-you-can. In the organization's Wish Well, where people can leave their wishes for the neighborhood, one elder gentleman wrote: "This art installation costs more than what I make in a month!" Hoyt acknowledges the frustrations, but observes that Pillsbury House is actually in a position to help mitigate some of these income struggles, by way of the various social services offered by the organization.
One of the neighborhood business owners, Evette McCarthy, said that the resistance they're getting from some residents probably has to do with the fact that newcomers don't always respect "the history of how the neighborhood got to where it is. They forget people who have lived here, who have been through the good and the ugly,' she says. "You can't just come in and say this needs to be changed" — you have to listen, too. McCarthy says it's key to engage neighborhood youth. "I'm trying to work with the new businesses to have a youth hour," she says. "We need to invite the kids to come in and have something to give."
Becky Timm, who leads Powderhorn Park Neighborhood Association, which collaborated with Pillsbury House + Theatre on Arts on Chicago, describes the placemaking project's potential as powerful: "[It has] reinforced our belief in using art in art for community development," she says. "Pillsbury did a good job making people [feel] connected to the community." And Chicago Avenue is now more aesthetically appealing. The proof, she offers: "There are more people walking around." Timm is satisfied that the project's been a success and that the collaboration between artists and businesses has proved it is "mutually beneficial to work with each other."