The New Wave of Artists Redefining 'Rural'
RACA draws attention to "rural art" going well beyond bufflehead portraits and gentle landscapes in a playful, eclectic exhibition by Greater Minnesota artists on view now in Minneapolis.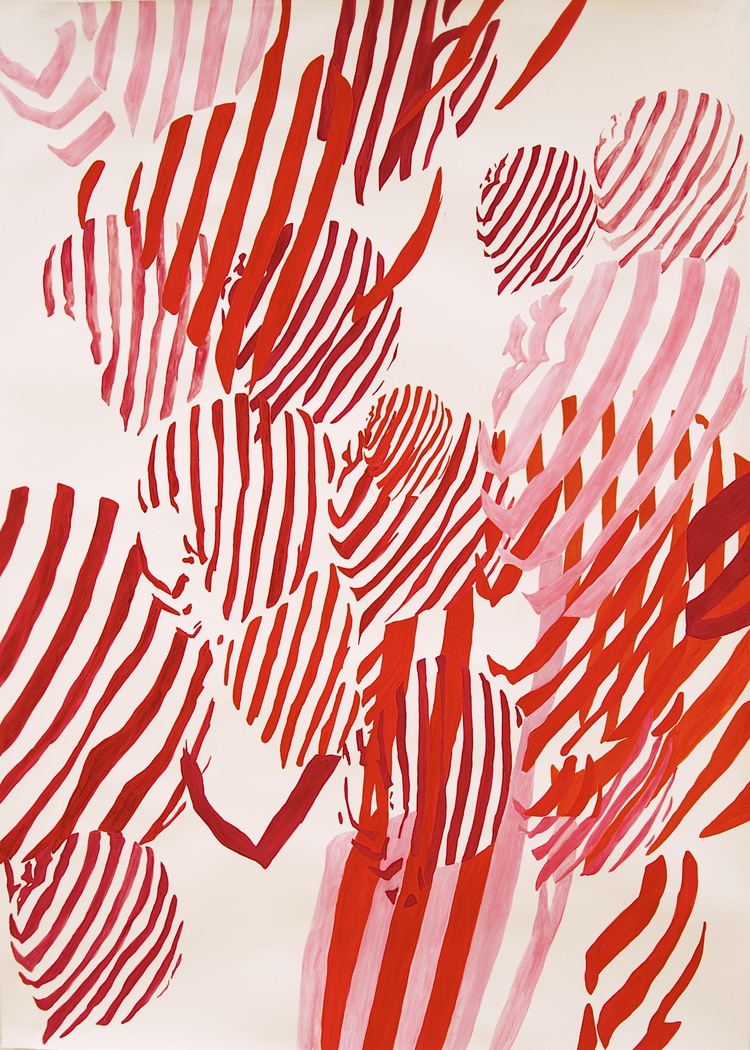 The only obviously "rural" piece in the McKnight Foundation's lobby gallery is not part of the Rural America Contemporary Art (RACA) show. It's Bruce Tapola's Barnyard, a charming painting from a cow's point of view that is part of the foundation's permanent collection. The nearby fountain's audible trickle gives the lobby an almost spa-like atmosphere; aside from the featured exhibition, the other artworks on display are tasteful celebrations of nature and universally appealing, as befits an organization that serves many different constituencies.
Finding anything universal among the works by RACA artists, on the other hand, is difficult. Any connections you try to force unravel quickly. Of course, that's kind of the point: RACA exists to show that contemporary rural artists are anything but a monolithic category — that their work is as experimental and innovative, and as stubbornly individual as that of urban artists. To put it another way, rural artists are not all camped out in hunting blinds, painting buffleheads for the Federal Duck Stamp Contest. In fact, in this exhibition there is nary a straight-up landscape or Bonheur-esque farm animal portrait to be seen — instead, there's a sense of play with these stereotypical preoccupations, idiosyncratic riffs on the genres of landscape and animal portraiture.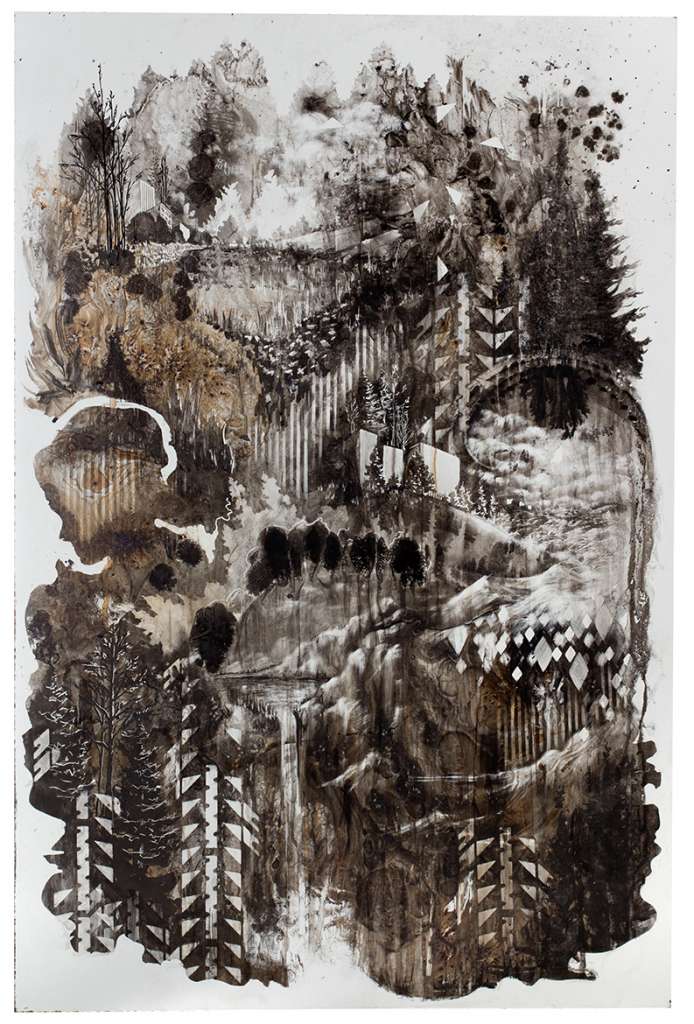 In Pause of Exploring Your Preserved Places is one of two landscapes by Gregory Euclide, both bursting at the seams with forests, rivers, and mountains that have been stitched together in a surreal composite — as if instead of drawing staircases, M.C. Escher had concentrated on hiking trails. Fans of Bon Iver may recognize Euclide's aesthetic — pretty and ominous in equal measure — from the cover of the group's second studio album. The title, In Pause of Exploring Your Preserved Places, suggests a polite extraterrestrial visitor, an alien Bob Ross, perhaps, setting up an easel in a national park. Euclide paints his forests and meadows in black and brown ink, layering a second landscape of trees, waterfalls and mountains on them in white like an afterimage.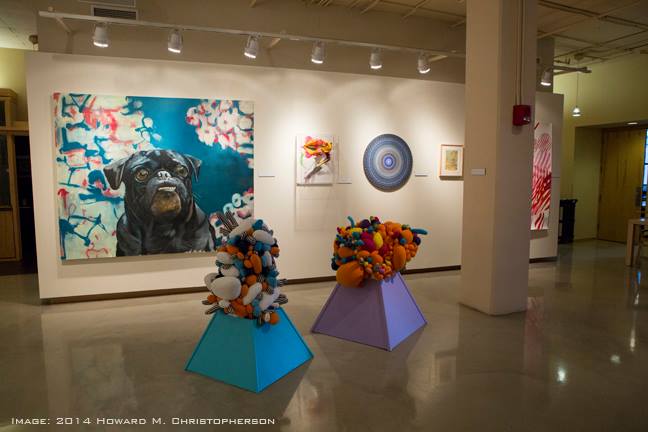 Animals come out in force in some of the show's larger paintings, including two by Patricia Canelake. In Unleashed, a baby blue horse looms in the foreground as if investigating whether the viewer has sugar cubes in her pocket. Behind the horse are figures sketched in rust-red on a mustard-colored background, resembling the preparatory drawings Renaissance painters made in red chalk. One more fully realized figure wears a black jacket with pink trim and appears to hesitate, holding a bridle or reins. The horse is foregrounded again in Leashed, and the reins droop in a female figure's hands; both gaze distractedly behind them at something we can't see. Canelake infuses a gentle irony in these paintings' titles, because leashed or unleashed, the horse and its human companions exhibit little desire to go anywhere in particular. Yet the mood isn't so much peaceful as suspenseful, as if her subjects are waiting for the other (horse)shoe to drop.
RACA's founder, Brian Frink, has contributed Colby Cake, a massive portrait of a pug with a touching underbite, to the show. The viewer gazes directly into bug-eyes the size of softballs in a head that must be two and a half feet in diameter. It's a good joke, painting a pint-sized dog at this scale. The hyper-real subject contrasts with a background of teal sky and white blossoms blown out of focus — a pug's impressionistic, Technicolor view of the world?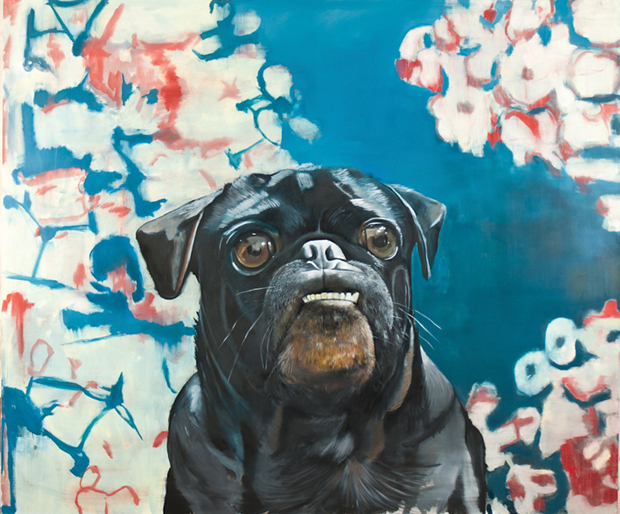 There's an exuberance in some of the larger works in the show, Frink's and also Naomi RaMona Schliesman's sculpture Form Into Form: two pastel pyramids, out of whose apexes brightly colored stuffed shapes, like discarded Muppet parts, have bubbled. A painting by Lisa Bergh, Flotation Device #9, is likewise airy and joyful: pink and red zebra stripes on a big, unframed sheet of paper create the illusion of rounded shapes like buoys, balloons, or a bunch of candy hearts bumping up against each other. In one spot, the white background nearly gets swallowed up by intersecting stripes and shapes, but Bergh backs off the temptation to overwork this section. It is such small acts of self-restraint that allow this painting to feel so expansive; Bergh provides the minimum information needed to suggest shapes and depth, creating a sense of freedom and movement where more explicit brushstrokes might engender rigidity.
______________________________________________________
The forests, rivers, and mountains in Euclide's landscapes are stitched together in a surreal composite, as if instead of drawing staircases, M.C. Escher had concentrated on hiking trails.
______________________________________________________
Two works by Michelle Johnson are more obviously about restraint: they are small, tidy, and painstaking. RGB is a mandala made up of rings of capital letters like an endless elementary school worksheet. RGB makes art out of a mechanical exercise, much as Andy Warhol used to tap into the mystery of the mundane (as in his mass-produced silkscreens of an overused image of Marilyn Monroe or stacks of Campbell's soup cans) by paradoxically emphasizing quantity over quality. In Multi-Variation, Johnson has filled a sheet of legal paper with cursive lettering, working over the paper so minutely that it's buckled, parchment-like. With her investment of time and effort — reproducing her calligraphy on that ordinary paper with the deliberate effort of a medieval scribe copying the Gospels — Johnson elevates her humble materials to a sort of holiness, just as Warhol's practice lifted up workaday things like Brillo pads for special attention.
David Hamlow, in his Unconscious Reliquary 3 and Unconscious Reliquary 4, is also preoccupied with sublimating the ordinary. Hamlow has cut up cardboard food packaging to create filigree boxes with packing tape windows. The "relics" filling them include things like Sharpie markers, a tealight, a coffee stirrer that says "West Bank Arts Quarter," museum passes and ticket stubs. Is it the worthless/priceless detritus found at the bottom of a suitcase after a memorable trip? The items housed inside Unconscious Reliquary 4 are all caps missing their pens — one man's trash, another's treasure.
There's something in this show for everyone – and I don't mean that as faint praise. Matt Willemsen's Emblem Series 001-008 consists of square panels, each stencilled with a generic but evocative seal. They are pleasing and colorful, like Jony Ive icons for some mysterious Apple product. Liz Miller uses thick paper and neon string to create deconstructed masks inUntitled 15 (Mimetic Deception). Michael Eble is showing companion paintings with striations in green and teal, orange and peach that economically evoke the wetlands he is fascinated with.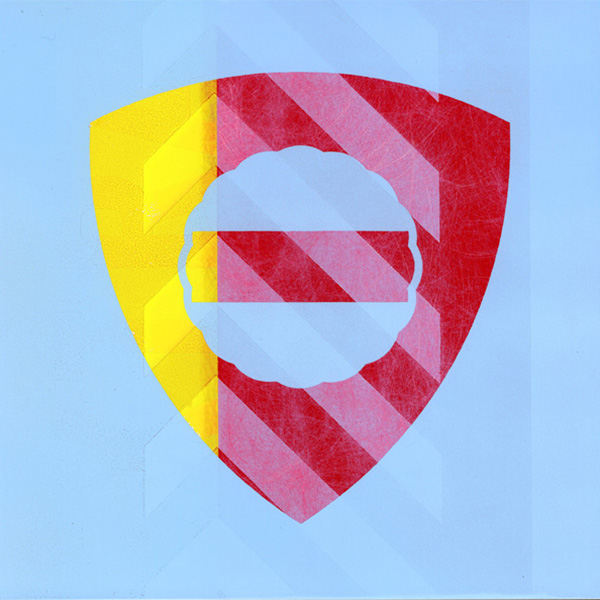 This is one of the first exhibitions organized by RACA (they had a good show in the Arts Center of St. Peter in 2012, too) and it's a strong, diverse showing of work. "Making nowhere into somewhere" is RACA's tagline, something Brian Frink explains is "a wry commentary on the fact that those who live in rural America already know it is 'somewhere.'" No doubt there are real-life analogs to the narrator of Talking Heads' "The Big Country," who looks out his airplane window at rural America and declares, "I wouldn't live there if you paid me." But a group like RACA is enough to make even those folks think twice.
______________________________________________________
Related exhibition details:
Rural America Contemporary Art: Making Nowhere Into Somewhere is on view through July 2014 in the Cynthia Binger Boynton lobby gallery at the McKnight Foundation offices, 710 South Second Street, Suite 400, Minneapolis. Find more about RACA on their website and the group's Facebook page.
Hannah Dentinger is rediscovering the Minnesotan cultural scene after a period of exile elsewhere in the Midwest. She writes about art and literature.