The Just-Right Work Space
Alison Morse checks out a variety of coworking spaces in operation throughout the Twin Cities metro and beyond, reporting back with info on who's chosen these spaces and why, and she weighs which offers the most to people working in the arts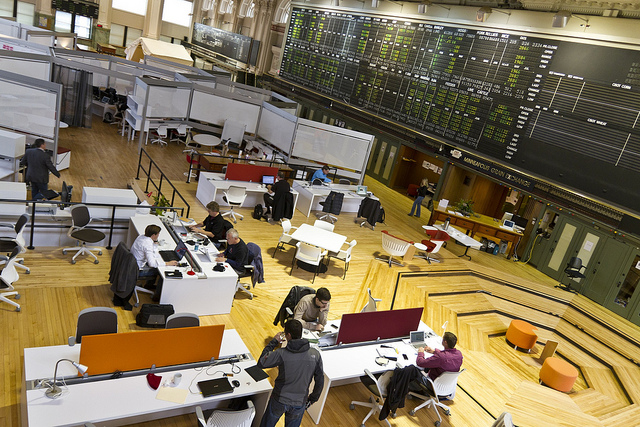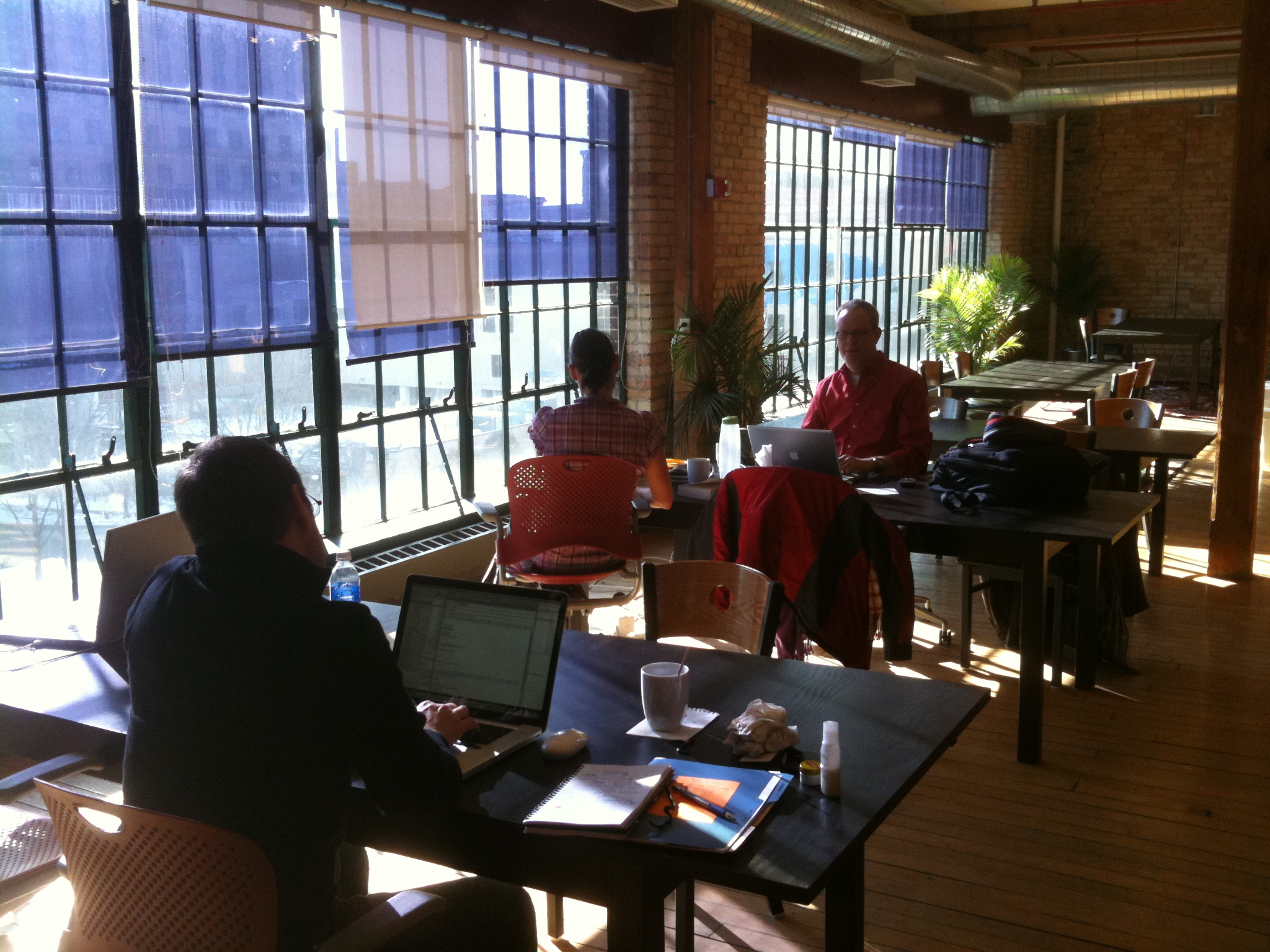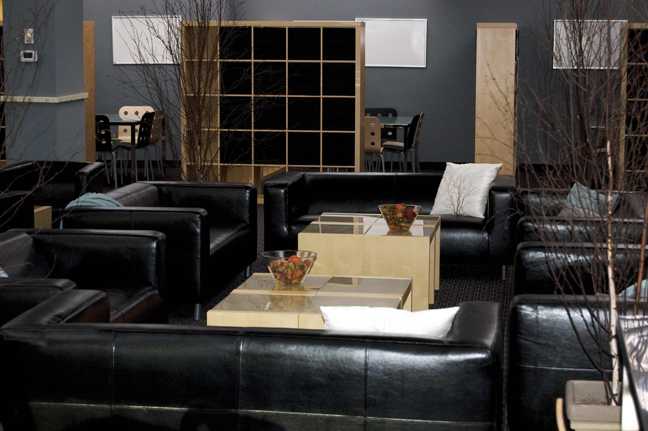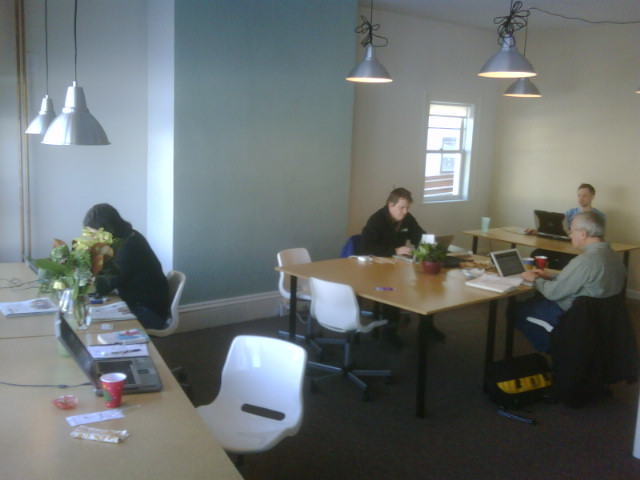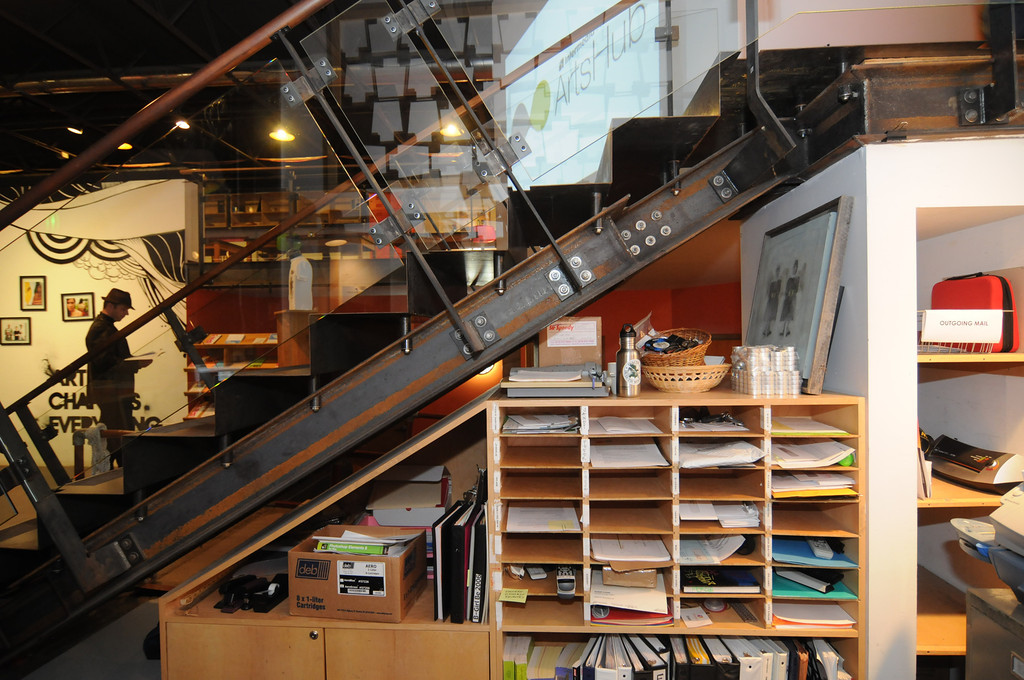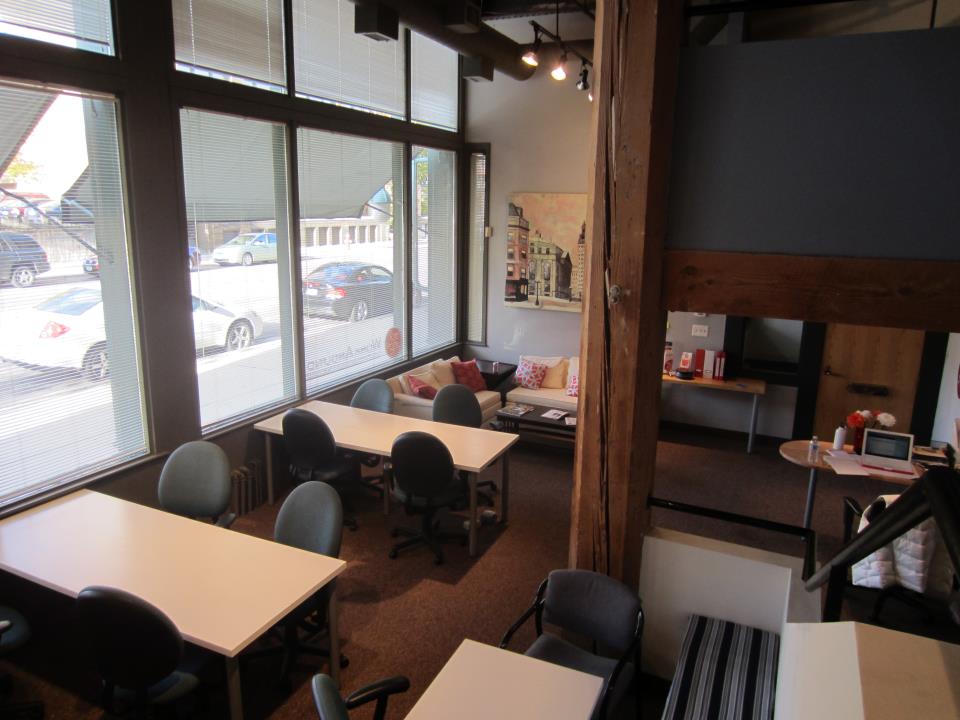 If I could think of a perfect coworking environment for artists (a place where workspace is shared), it would probably look like the building I recently read about in Metropolis magazine. The article describes a space in Brooklyn where architects, artists, urban planners, biologists, designers, engineers, a physicist and a geographer all work together but separately, on their own projects, in open studio-offices. These creative freelancers share the best aspects of coworking: they converse, watch each other make things, collaborate, work alone when they want to, and bring in guests.
I checked out some of the coworking spaces available in the Twin Cities. None quite measure up to those office-studios described in the Metropolis article, but all offer their members the necessary amenities of these open working environments: free wireless internet and coffee, access to a printer and copy machine, at least one separate meeting room, and formal and/or informal networking opportunities for members. Beyond these basics, however, there are definite differences in personality and price among the coworking options in the St Paul/Minneapolis metro area. Here is my take on these spaces.
---
CoCo, Downtown, Minneapolis and Lowertown, St Paul
CoCo, the largest coworking organization in the Twin Cities, is the most expensive option for individuals, but one membership gets you into a network of 275 coworking colleagues and access to two locations.
At the entrance to CoCo St Paul, which is on the fourth floor of a renovated warehouse, I'm greeted by the thumping beat of disco music and the buzz of conversation coming from the kitchen area, where at least six people, led by Don Ball (one of CoCo's founders), are prepping upscale taco fixings for today's communal lunch. Others chat on couches or work at desks nearby. Friday lunch is party time. Mark, the host at CoCo St Paul, tells me he's in charge of the party every single day — a party whose members include graphic designers, photographers, videographers, web designers, community activists and "anyone who works on a computer."
That said, the "party" can also be avoided, if need be. CoCo's three floors, furnished with simple, modern furniture and wrapped in warmly colored, exposed brick, have plenty of spaces for more quiet, solitary work, too. The St. Paul facility has the feel of a cozy, clean yet constantly humming hive.
In contrast, the Minneapolis CoCo is operatically grand. This CoCo rests right on the polished wood trading floor of the old Grain Exchange, and it retains the building's ornate moldings, murals, and gigantic trading board, where 2008's grain prices are still displayed.
CoCo attempts to stay away from "corporate desensitized blandness," says Teke, the host at CoCo Minneapolis. He points to design details like the candy-colored beanbag chairs in the Exchange's "pit" lounge and the Tweets posted on the electronic trading board.
But despite these impish touches and the occasional hula-hoop at someone's workstation, the giant room of the Minneapolis branch feels all about work. Most of the 25-30 people here sit alone at their desks, eyes on their computers, ears plugged into iPods. The kitchen and meeting spaces are in separate rooms, off to the side.
Both CoCo locations hold events for its high-tech and entrepreneurial-oriented membership, everything from the informal Friday lunch to film screenings and seminars. Between the owners, hosts, and someone called an "Instigator in Residence," the staff works hard to monitor members' needs and to foster a CoCo community.
Joule, Downtown Minneapolis
Just off the Washington Avenue exit of 35W, in a glass and concrete office building, sits Joule, the brainchild of Jackie Menne. Jackie, who worked in advertising for years, first imagined Joule as a place where she and her fellow freelance creatives could hang out; little did she know her space would appeal to a wide swath of people, from attorneys to "Laughter Yoga" instructors, as well as writers, designers, and producers.
The 4000-square-foot main space has gray walls and gray carpet, with soft, full-spectrum fluorescent lighting and two lounge areas. Dividers on casters allow for reconfigurable, semi-private work stations. A closed meeting space and conference rooms in other parts of the building are available, too, along with two terraces, an exercise room, and a shower. The atmosphere is hushed, the dress, business casual.
Jackie has started roundtables three times a month where six to ten members chat a bit and get to know each other, and maybe exchange advice. "There's also been a lot of business generated that way," she says. Evening and weekend events, including seminars and workshops for members, also provide networking opportunities.
WorkAround, North Loop, Downtown Minneapolis
WorkAround's open workspace, meeting rooms, lounge, and kitchen all fit cozily into the front section of a renovated warehouse. The space is brightened by a two-story bank of south-facing windows and colorful artwork by local artists. (A side note: WorkAround staff would like to encourage more artists to exhibit here.)
Business coach Buffie Blesi started WorkAround with her husband, John Burns, as a way to get her company out of her home. She had a vision that in so doing she might create a hub for other entrepreneurial activity. "WorkAround allows us to serve a market we wouldn't otherwise serve: the independent entrepreneur who's just getting started and doesn't have money for coaching."
WorkAround's eight to ten members (not including John, Buffie and her coaching staff), run the gamut — from a Groupon company executive to a hypnotherapist. "Though people know each other and they might talk together, they're not collaborating," Buffie confides. "The businesses are so different." She also says that co-worker coaching works somewhat through osmosis. "I talk to everybody. When we have strategic planning classes for our business coaches, we offer a discount to our members." Members are also welcome at WorkAround's business-related events. "Our motto is the solo-together route. You can do whatever you want."
3rd Place, St Anthony, St Paul
On the first floor of what used to be a grocery store in the St Anthony neighborhood of St Paul, a few blocks away from the shops and restaurants on Como Avenue, Josh Becerra and two colleagues started 3rd Place. Becerra and his co-founders did all the renovations themselves, creating a no-frills space that, at $90 per month for unlimited-access membership, is the cheapest coworking option in the Twin Cities.
The 3rd Place has one plain front room for its 14 members (who are never found working all together at the same time), a simple meeting space, a kitchenette, a lounge decorated with beer coasters and nutcrackers, and access to a back porch for summer barbeques. "It's a pretty laid back atmosphere," says Josh. Collaborations and information sharing happens here on a casual, informal basis, possibly because most members, including Josh and his partners, come from the tech industry. Others own their own businesses in a variety of fields. Thanks to the three or four members who live in the area, the 3rd Place has also become a community hub, holding knitting nights, local artist events, and neighborhood association meetings.
ArtsHub, the coworking arm of Intermedia Arts, has many of the same amenities as other Twin Cities coworking entities and many of the same types of members: small tech companies, alternative entrepreneurs, and non-profits. But, as befits its name and affiliation with Intermedia Arts, ArtsHub is indeed artist-centric. Coworking members have access to Intermedia's theater, and they can work in or near its gallery and rub elbows with a community rife with artists and arts organizations. Workshops and events for members tend to be arts-centric, too — and practical. April's offerings range from "Blogging for Artists" to "Intellectual Property Basics."
ArtsHub's coworking spaces, curated by artist Peter Haakon Thompson, don't feel like cubicled offices; the space in Intermedia's main building is funky and dark. The ArtsHub West auxiliary space, on the other hand, is bright and simple. Even if the rent is not cheap, there's an appealing range of membership options, depending on your needs and budget. (I recently wrote a more extensive profile about ArtsHub for mnartists.org, which you can read here.)
Faux Poco is not actually a coworking space at all. It's a 4000-square-foot section situated in a large warehouse that has been eccentrically divided into partially open studios for visual artists and designers. Founders Luci Kandler and Miles Mendenhall have created ten personal studios, as well as separate spaces for shared equipment, like building tools and a screen printer. They even converted a bathroom into a darkroom.
All studios sport at least one diagonal wall, the result of builder Mendenhall's desire to keep the spaces from feeling grid-like. Other non-sterile interior flourishes include bits of used building materials attached to the studio dividers and playful objects, like a dartboard and an Astroturf rug, in the common areas.
Faux Poco charges $150 per month for personal studios and $50 a month for a shop membership. Luci and Miles also help brainstorm technical issues with other artists and can set up informal mentorships; they offer a screen-printing service, too. "What we're trying to do with this community space is provide a bit of a nurturing hug," says Miles, who calls Faux Poco a "kind of stepping ground from school to studio practice," for young, ambitious artists. This flexible environment, filled with evidence of artmaking-in-progress, offers something different from the official "coworking" spaces I visited: an opportunity for both clean and messy work in a variety of disciplines.
An affordable mash-up between Faux-Poco and the Twin Cities' more office-like coworking sites is the sort of space I'd find ideal: a space where artists could mingle, hold meetings and move back and forth between work at their computers and hands-on construction. I imagine, too, that I'm not the only person whose own work is often inspired by the sights, sounds, and smells of other artists' creative work-in-progress.
---
Some coworking resources outside the Twin Cities:
Grand Rapids: CommonSpace, a co-working collaboration between the Grand Rapids Chamber of Commerce and a building called The Depot, began operating in 2010 and seems to be thriving.
St. Cloud: In February 2012, Jon Ruprecht and Dawn Zimmerman opened Cloudcoworking in St Cloud's Davidson Opera House.
Duluth: Martin Sawinsky and the folks at 3five Design are about to launch CoLab Duluth in what they call "one of Duluth's iconic landmarks" with the support and guidance of CoCo and a handful of local businesses. I'm sure other spaces are out there, or will be out there soon.