The Accidental Playwright
Actor and theater critic Jaime Kleiman profiles Aditi Kapil -- an Ivey Award-winning writer, actor, and director -- about her new work, the benefits of an international perspective, and the lucky happenstance that's bolstered her career crafting plays.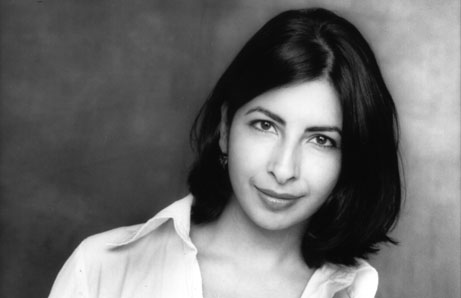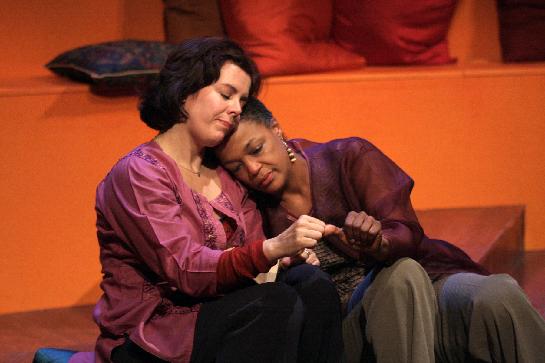 ADITI KAPIL DIDN'T INTEND TO BECOME A PLAYWRIGHT. In fact, she never intended to become involved in the theater at all. Kapil, who is of Indian and Bulgarian descent by way of Sweden, moved to Minnesota in the early '90s to attend Macalester College. She originally came to study journalism, but switched to an English major and took some drama classes as a "blow-off," she says. She graduated with a dual degree in English and Dramatic Arts.
Her first summer stock show out of college, in 1994, was I Remember Mama, directed by Jack Reuler. Though I Remember Mama is about a Scandinavian immigrant family, Reuler felt she was perfect for the role. Says Reuler, "I was questioned for casting a woman of color … in that role. Aditi was a Swedish citizen and had grown up in Stockholm. She was the most Scandinavian actress imaginable. That forged our partnership." Two years after graduation, Kapil was making her living as a full-time actor. She also began working with Mixed Blood Theatre, the company that Reuler had founded to promote multi-racial casting and cultural pluralism.
Her years-long collaboration with Mixed Blood has provided Kapil with a kind of artistic home. In addition to acting there, she's also directed: the Ivey Award-winning Messy Utopia, Queen of the Remote Control, The Deaf Duckling, and The Primary English Class. It was Reuler who encouraged her to try her hand at writing a script.
Kapil had always written, mostly fiction, but she had never felt any interest in playwrighting. Then, in 2000, "Jack suggested creating an educational touring show for my friend Nic Zapko to perform," recalls Kapil. "As he spoke the words, I knew exactly how to do it. I had so much fun creating it." That play, The Deaf Duckling, became a part of the Mixed Blood touring repertoire and also begat a new script for SteppingStone Theater for Youth Development, a Bollywood-style musical called The Adventures of Hanuman, King of the Monkeys; and earlier this year, she wrote a play called Playlist: America '09 for Pillsbury House Theatre's Breaking Ice Company. But, beyond these works, she's becoming known around the country as the author of Love Person, a play she wrote when she received a Many Voices residency from the Playwrights' Center. "I used that year [at the Playwrights' Center] to find out if I could write my own plays or if I needed a commission," says Kapil; she wanted to know if there "was a real playwright inside." There sure was.
______________________________________________________
I think I have a brain helpful for certain projects because I don't think like an American — I don't have the confidence or the ego or the entitlement.
______________________________________________________
Love Person premiered at Mixed Blood in 2008 and has since been produced six times around the country, with a production pending in London. It's a fresh take on a story as old as time: relationships on the rocks and people's inability to communicate with one another. With ASL, spoken English, Sanskrit poetry, and projected emails, Kapil uses both her extraordinary grasp of language and insight into the way it sometimes fails us to examine the nature of romantic and filial love. The title is a translation from ASL to spoken English of the word "lover"-in ASL, signed literally as "love person." The play has been nominated for a Pulitzer Prize, a Steinberg Award, and the Susan Blackburn Award (though it didn't win any of them). Still, not bad for Kapil's first time out as a "real playwright."
Kapil is currently working on a play called Agnes Under the Big Top, which is about "the past and present of immigrants, and where you stand when you move to a new country," she says, struggling to encapsulate her big ideas into a one-sentence elevator pitch. As one of seven new plays selected for the NEA New Play Development Program, hosted by Arena Stage, Agnes will receive workshops and readings all over the world, at places like the Lark Play Development Center in New York and at the Rhodopi International Theatre Laboratory in Bulgaria (where Kapil and her family have temporarily relocated). Agnes will receive its world premiere at Mixed Blood as part of the theater's 2010-2011 season.
Next up for Kapil is helming Mixed Blood's season opener, Ruined by Lynn Nottage. Ruined is "essentially Mother Courage set in the Congo," explains Kapil; she says she initially had some reservations about whether she was the right person for the job. "The crazy thing about me directing this is, 'What are you talking about? Why wouldn't you get an African-American director?'" she says. "But it's not an American play, it's an African play. My brain might be helpful on it because I don't think like an American. I don't have the confidence or the ego or the entitlement."
It is perhaps this very lack of ego that makes Kapil's work so engaging. She may have started out as an accidental playwright, but hers is a rising voice in the American theater-and it's a compelling one, in any language or culture.
***
Related event:
Ruined by Lynn Nottage, directed by Aditi Kapil, will open at Mixed Blood Theatre in Minneapolis on October 16, 2009.
About the author: Jaime Kleiman is a freelance journalist and actor. She has written for Mpls.St.Paul Magazine, The Rake, Twin Cities Luxury + Fashion, Pioneer Press, Minnesota Meetings and Events, mnartists.org, American Theatre, City Pages, and BackStage.com. As an actor, she has performed with Walking Shadow Theatre Company, Minnesota Jewish Theatre Company, Bridge Productions, and Workhouse Theatre Company, among many others. Upcoming: Moonlight and Magnolias at the Minnesota Jewish Theatre Company, Oct. 24-Nov. 15.