Of Pastries and Paintings: A Guide to Coffee House Galleries in MN
Maggie Ryan Sandford launches a neighborhood by neighborhood guide to alternative exhibition spaces--coffee shops, cafes, salons--with details helpful to both artists and arts lovers. First stop: Minneapolis' Stevens Square/Whittier neighborhood.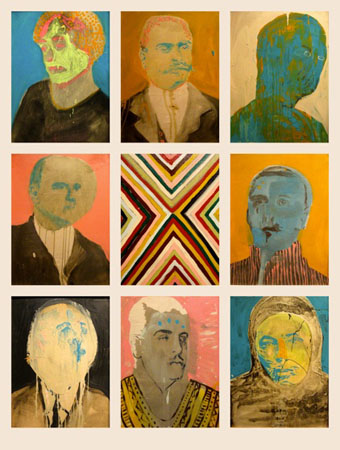 When artists dream of success, they probably dream of showing at the Walker, the Met, the Tate, Musée National d'Art Moderne — not the java joint down the street. But on the road to the big-time, those little coffeehouse shows can prove to be important stops along the way, providing a safe platform for artists to practice the tricks of their trade: how to produce enough work for a show, create a cohesive collection, price pieces, place work in a variety of exhibition spaces, effectively promote a show, and (most importantly) find an audience.
To help local artists navigate this process, we at mnartists.org decided to create a directory of sorts, a guide to the best of the many coffee shops, cafes, bars, and salons that double as gallery spaces. We will explore the Minnesota "Coffee House Art Scene" on an ongoing basis, one neighborhood at a time.
---
Our first installment: the Stevens Square/Whittier neighborhood
THE BOILER ROOM
1820 3rd Ave S, 612-872-1220
The ambiance: A laid back, neighborhood place that's not putting on airs.
The art: They're open to suggestion. Last showed work by "Dim Media" – a collective that produces edgy, youthful work, featuring everything from sexy rabbits to floating skulls, haunted landscapes to a portrait of Twiggy. The Boiler Room curator is currently looking for more art, so it's a good place to call if you're looking for a place to show your work.
The stats (out of 5):
Consistency of quality: ***
Funky Factor: ****
Classy Factor: **1/2
Contact: Call Neil Hoover at the shop, before noon.
708 W 22nd St., 612-872-0911
The ambiance: Super funky tchotchkes and the best possible chintzy antiques — velvet paintings, plaster conquistadors, and a tiny cut-out of Tom Selleck on the pastry case.
The art: They are looking for, and we quote, "whatever is redeemable." The staff isn't picky; they just want to work by artists who are ready and willing to produce a whole show. The café is currently showing the work of Kathy J. Lynott: dark and ghostly mid-sized paintings that read like slightly amateurish early works from an artist with a good eye for finding beauty in the bizarre.
The stats (out of 5):
Consistency of quality: ***1/2
Funky Factor: *****
Classy Factor: **
Contact: E-mail the staff at caffetto@gmail.com. The staff collectively juries art at regular intervals (but they say they rarely turn applicants down).
2558 Lyndale Ave. S, 612-871-2360
The ambiance: "Grown-up" and clean, but colorful, sunny, and welcoming with its high ceilings, big windows, and lush back patio.
The art: Varied, but tending toward a gentler style, for perhaps an older crowd: lots of color, pleasant subject matter. The shop recently showed the work of Torey Bonar, whose large-scale (48″ x 60″) paintings have a calm, storybook quality to them, with clean lines, and muted blocks of color. They're currently showing two complementary artists simultaneously: Lauren Hellen, who does large, botanical paintings over photographs, alongside landscape/environmental photography by Mark Spooner.
The stats (out of 5):
Consistency of quality: ***1/2
Funky Factor: **
Classy Factor: *****
Contact: E-mail the coffeeshop at info@commonrootscafe.com, Attn: Kate Casanova.
1229 Hennepin Ave., 612-333-8882
The ambiance: Simple and chic like the other Espresso Royale shops, but with a high ceiling and that nice downtown feel — a perfect backdrop for art of all kinds.
The art: On view now: weirdly intriguing black-and-white ink drawings from emerging artist Shuji Usui, whose off-kilter, almost hastily-drawn sense of light and dark draws the viewer in, and gives the uneasy impression that a twisted film noir story is occurring within each 12″ x 14″ frame. Also: they're now showing the textural, brightly colored abstract work of accomplished multimedia artist Cordell Klier.
The stats (out of 5):
Consistency of quality: ***1/2
Funky Factor: ****
Classy Factor: ***
Contact: Call "Susie" at the store, or drop off a sample/description of your work.
2451 Nicollet Avenue, 612-871-3177
The ambiance: Simple, elegant, and a little retro, with lots of light and quiet corners to work. Always seems to host beautiful people.
The art: These guys are so serious about art they have a name for their gallery, and a website featuring work from all their past shows. Currently on view, coffee shop paintings by Clinton Rost.
The stats (out of 5):
Consistency of quality: ****
Funky Factor: ***1/2
Classy Factor: *****
Contact: Bring a CD/portfolio to the shop and ask for France Barbeau, or visit their website (PDF) for submission information.
2601 Hennepin, 612-377-1700
The ambiance: Tea Garden feels like any well-maintained chain tea shop: clean, modern, cookie-cutter "Zen."
The art: Accessible but hip… hipper, for instance, than one might expect from a chain tea house. Currently showing Christopher Williams, whose geometric mixed media works are reminiscent of a younger, Whiter, more recent Basquiat, with fewer words and more interest in biology.
The stats (out of 5):
Consistency of quality: ****
Funky Factor: ****1/2
Classy Factor: ****
Contact: Email Lindsay Nohl at Lindsay.nohl@gmail.com
But what about…
Bob's Java Hut? They have motorcycle collectibles on the walls, not local art.
Muddy Waters? For now, they have a mosaic mural, and no room to show art.
Spyhouse (on Lyndale)? They have antiques on the walls, not local art.
Uncommon Grounds? They don't show local artists.