Look Again At India: Filmmaker Simone Ahuja of Blood Orange Media
Minneapolis filmmaker Simone Ahuja sets out to tell the untold stories of contemporary India and, in the process, challenges you to rethink what you thought you knew about this up-and-coming "Asian Tiger".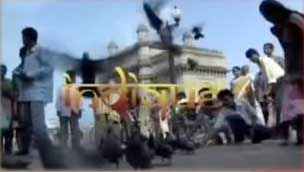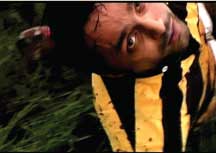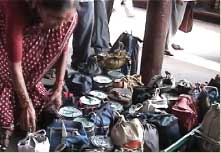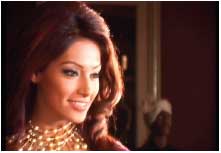 NO SWAMIS OR STREET URCHINS HERE. Minneapolis filmmaker Simone Ahuja wants to introduce you to stories of contemporary India that transcend stereotypes. Through Ahuja's lens you'll see past Varanasi's famous ghats by the Ganges and into the lives of Bollywood stars turned professional rugby players or inside the entrepreneurial world of the fast-paced lunch-runners in Bombay.
What you'll take away from her TV and film work is a sense of the unmistakable vibrancy and surprising cultural variety to be found in the subcontinent. There are temples and monkeys aplenty if that's your pleasure, but what about the booming wine industry of Nashik? And while there's grinding poverty to be found throughout India (as in any country—"developing" or not), Ahuja's short videos won't let you overlook the growing economic optimism and affluence of this "Asian Tiger's" burgeoning middle class. "What we all want—whether in India or here in the U.S.—is not so different," Ahuja observes.
Ahuja herself was born and raised in the Twin Cities suburbs; her mother and father moved from Delhi* to the U.S. shortly after they married. She describes herself as an "insider outsider" with regard to Indian culture. She came to TV as something she did on the side—Ahuja's actually practicing dentist in Minneapolis. After college, she dabbled in improvisational theater and did some work with the Pangea World Theater. She got together with a few of the people she met in her theatre work, and they started Chai City, a public access show picked up for the last few years as part of TPT's (MN Channel 17) programming. Putting segments together for Chai City, she occasionally found herself in India to shoot short films and videos for the show.
She began devoting more substantial personal resources—both time and money—to her work in media a couple of years ago. She credits a life-threatening bout with typhoid as providing the inspiration to cut her dental practice to part-time and establish Blood Orange Media. "I got so sick and I felt worse than I'd ever imagined," she remembers. "I really thought, 'This is it.' I don't want to sound too dramatic, but that brush with mortality really pushed me to start Blood Orange. I realized how much I truly wanted to really put my efforts into filmmaking."
With a presence in both Minnesota and in Bombay, Blood Orange Media brings the vitality of modern India into your living room—most recently with Indique, her just-launched television series for public television. Indique just completed its three-installment launch on Twin Cities Public Television, and the series has been picked up across the country by over 100 PBS affiliates. With a mix of lifestyle and travel-oriented content, the series aims to convey the lushness of India's under-explored travel hotspots ("You have never seen luxury the way India can do luxury," Ahuja remarks) and to offer insight into the often overlooked cultural, fashion, and economic trends coming out of the nation's megalopolises.
Most people only draw their impressions of the people outside America through the lens of a television or film producer," avers Ahuja. "With stereotypical, two-dimensional media impressions saturating the coverage of India, I created Blood Orange so that I could provide a counterpoint to those images. With programs like Indique I hope we offer a more realistic, more representative portrayal of the middle-class India I know."
"Indique was conceptualized almost two years ago, and then we shot the pilot and a few episodes. It took a long time and, at first, there just wasn't much of a market for it. I kept hearing it was too 'positive'. Whatever that means," Ahuja explains. Things are quickly changing, though, and she's finding her services more in demand in the last few years. In addition to the TV series, Blood Orange occasionally provides stock footage of India for major news channels and has made a few short travel-oriented videos for airlines to screen during flights.
"In the U.K. Bollywood is old news. It's been huge there for years," Ahuja says. "It just takes a little longer for all those things to really enter the American consciousness. I am noticing, though, that there's a growing market for new kinds of images of India in the U.S. media market. With the growth of the IT industry and Indian cultural influences throughout the world, American media has responded to the need to keep pace—the old footage, filled with stereotypical images of poverty and temples, doesn't present an accurate picture. Our world is getting smaller, our economies are tied together, and we can't afford to isolate ourselves from the world."
"I think it's easy to be intimidated by and even fearful of a place you aren't familiar with. I hope so much that our shows can humanize Indian stories and show our viewers what they have in common with the people who live there," she says.
With the success of Indique's inaugural run nationwide, Ahuja hopes to start shooting segments for the second season of the series in the coming months.
About the filmmaker: Simone Ahuja is the founder and principal of Blood Orange, a media production company based in Minneapolis and Bombay, whose projects have earned her credits as a director, producer, writer and host. She began her film and television career as an actor and went on to produce and direct Chai City, a weekly broadcast television program featuring the South Asian diaspora for public television. Most recently, Ahuja directed and produced Indique – Untold Stories of Contemporary India, which is airing nationally in the US, and will be launched on DVD in India later this year.Her work has earned several grants and awards including the Jerome Grant for artists for her short films Scrum in the Mud (featuring Bollywood actor Rahul Bose on the rugby field) and Lunch on the Run (chronicling a day in the life of a Bombay lunch runner, or dubbawalla). In July 2007 Ahuja received an award for outstanding journalism from SAJA (South Asian Journalists Association) for a broadcast piece about the epidemic of diabetes in India, that aired on CNBC in the US.
Susannah Schouweiler is Editor of access+ENGAGE.
*Correction: the original version of this article mistakenly stated that Ahuja's parents came to the U.S. from Andhra Pradesh.