Healing the Wounds of War: "Combat Paper Project"
Alison Morse looks into the "Combat Paper Project," at the MCBA Sept 21 - 28, with a profile of the artists who transform their uniforms and raw wartime experiences into work that offers a rare and personal window into the human toll of modern combat.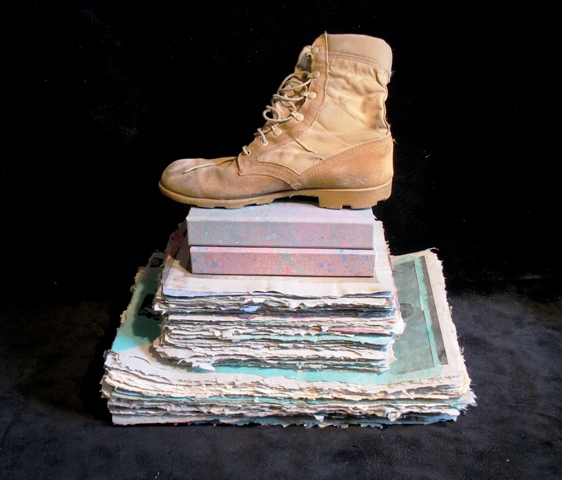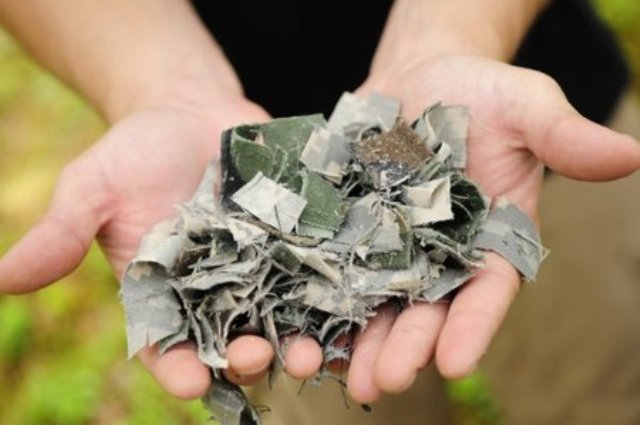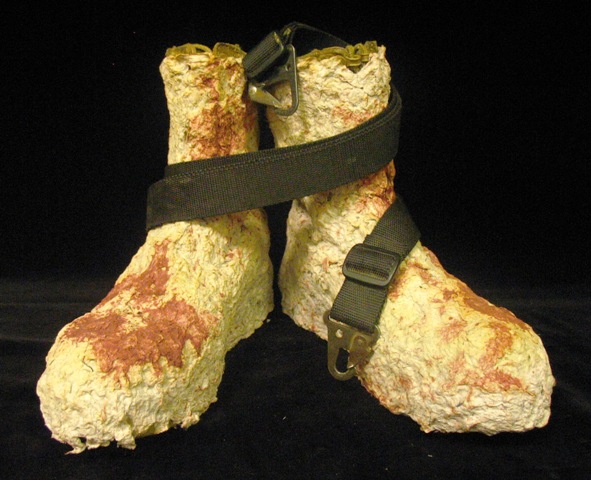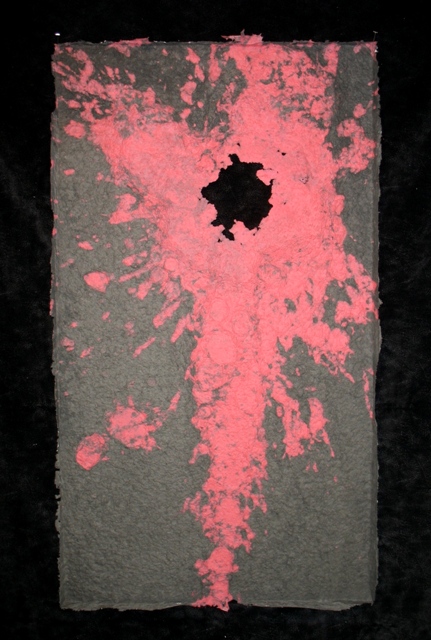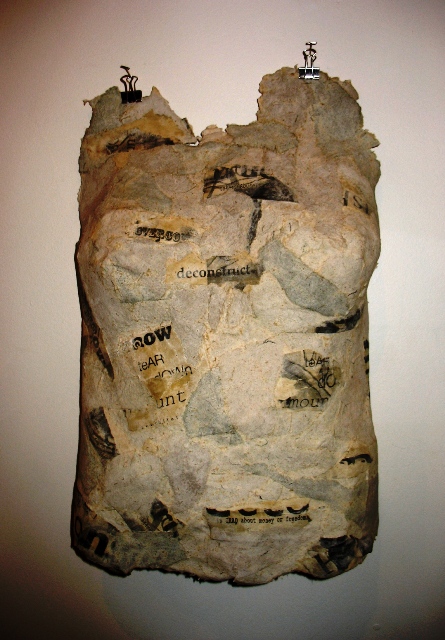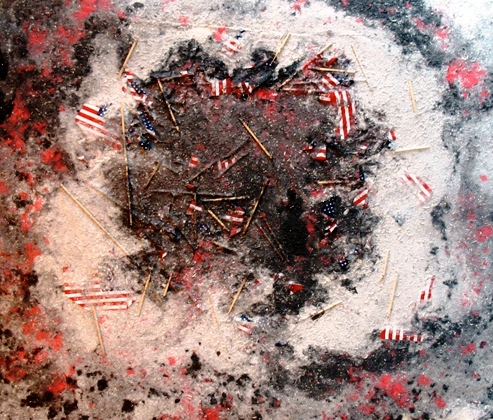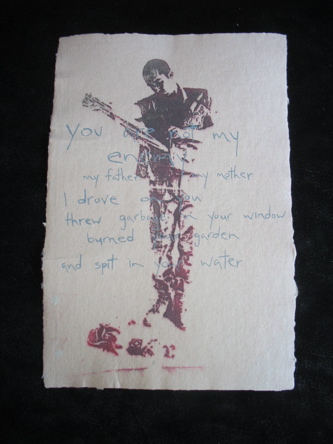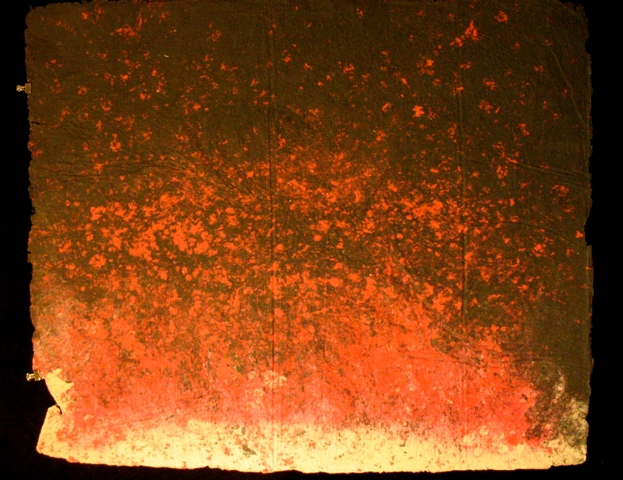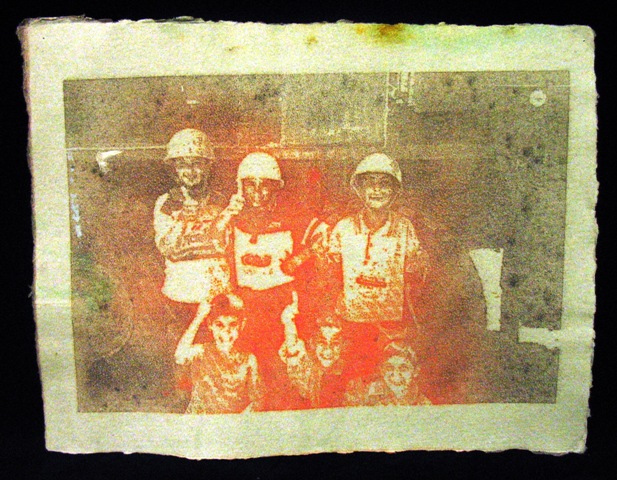 THIS IS NOT A CRITICAL ARTICLE; it's a call to action. Twin Cities viewers will soon have a chance to check out one of the most exciting art projects in the country: the Combat Paper Project, created by a group of artists and led by Drew Cameron and Drew Matott, two master paper-makers and book artists, both of whom will be in residence at the Minnesota Center for Book Arts next week.
I first encountered Combat Paper last fall when local artist and gallery owner Susan Hensel, an avowed supporter of the project, invited me to take a look at a video documentary on the effort, Iraq, Paper, Scissors. The video by Sarah Nesson documents a Combat Paper workshop at the Green Door papermaking studio in Vermont, where the project began. It opens with a close-up of a fist ripping a military uniform to pieces; those pieces become gray sludge as they travel through a Holland beater on their way to becoming pulp that will be formed into handmade paper.
This is the act that defines Combat Paper: a former soldier rips or cuts up his or her uniform to make paper for a work of art. The idea began as a performance piece in which Iraq war veteran Drew Cameron's uniform was cut from his body then turned into paper pulp. This original work echoed Yoko Ono's 1965 Cut Piece, for which she sat on stage next to a pair of scissors and invited audience members to cut off pieces of her clothing.
But Combat Paper is more than just performance art. Most of the project's leaders and participants are themselves veterans of the wars in Iraq, Afghanistan, and Kuwait, and other places; these are people with personal stories to tell. In the video, a pink-cheeked young man named Jon Michael Turner (a longtime member of the group) talks candidly about his combat experiences. "I have to live with the fact that I still see someone's eyes screaming at me after I shot them." He talks about trying to cover up his memories with acts of self-destruction. The video then records him at work on a monoprint, using paper made from his uniform and the dog tags of a friend who died in battle.
"To make a positive thing from my uniform," says Turner, "to heal open wounds" — that is Combat Paper's real purpose.
Inside the studio, the veterans in the Combat Paper workshop laugh, talk, and get messy in pulp and water up to their elbows, as they pulp-paint silkscreened stencils of their war photos and war memorabilia onto highly textured, gunmetal gray paper. "That's the most therapeutic thing about it," continues Turner. "It gives us an outlet to heal from these experiences by sharing them with each other, finding ways to move on, and learning to live with what we've been a part of."
Watching the young soldiers in this video as they evolve into artists, transforming their uniforms and raw wartime memories into prints, sculptures, paintings, books, and paper on which to write their stories – it's easy to understand Susan Hensel's "profound gut reaction" to the work and to see why she felt compelled to include a Combat Paper portfolio in her gallery's 2008 Leap of Faith show. Two veterans of the Afghan war who came to that show shared her enthusiastic response to the Combat Paper artwork. "You must bring them here," they insisted.
Jeff Rathermel, artistic director at Minnesota Center For Book Arts, is another admirer of the project. To him, Combat Paper is a "cathartic process" for veterans and a powerful way "to infuse content into [handmade] paper from the outset." MCBA is showcasing a Combat Paper residency in "A Week For Peace" at the Center, which launches on Tuesday evening, September 22, with a roundtable discussion which is open to vets and non-vets alike. Drew Matott calls these talks "the best way to find out the audience's response to what we're doing." In fact, Combat Paper grows and changes based on community feedback. Matott and Cameron are now searching for ways to involve more veterans of color and more women vets in their workshops, for example, because audiences from all over the U.S., Canada, Ireland, and Great Britain expressed a desire to hear more of those voices in the project.
The artists have also refined their mission since the project's inception. "In the beginning, Combat Paper had a staunch anti-war stance," says Matott. "Through monitoring [viewer] responses, we learned it's not about being anti-militaristic; the project is really about sharing personal stories and the many consequences" of an individual's war experience. The Combat Paper artists are also hoping for community help in shaping a vision for future workshops. "We are not therapists," Matott says, but he would like to integrate the workshops into therapeutic programs, and the group plans to invite therapists to participate in Combat Paper.
During their MCBA residency, Combat Paper artists will lead a two-day paper-making workshop. Veterans get preference for participation, but anyone is welcome to come, and all are encouraged to bring old military uniforms that they can either add to a group pulp or turn into personal pulp for paper-making. Members of the public are invited to stop by the Center at any point to watch this extraordinary process unfold.
Like Susan Hensel, as I've learned more about the project, I have become a zealous supporter of Combat Paper. These artists have achieved something rare: they've melded a range of contemporary art practices — collaborative multimedia performance, book arts — with activism, but they've ended up with something that transcends academia, politics, and the art market. Combat Paper engages regular people in the activity of making meaning from, and perhaps even healing, some of the wounds of war. Whether you're a combat veteran or someone otherwise personally touched by violence, or just a concerned citizen looking to understand the human toll of war, this experience is not to be missed.
______________________________________________________
Related events:
Minnesota Center for Book Arts' "Week for Peace" runs from September 19 through September 28, beginning with a digital bookmaking workshop for war veterans and a "Peace Prologue" reading by local authors on Saturday.
The bookmaking workshop (September 19 – 20), designed and led by local artist Monica Haller, invites veterans to gather their photos, writing, and memories of combat into booklets that they can share with family and friends. In the future, Haller also hopes to present the books to the public as part of a "thoughtful dialogue about this massive, but also invisible and unstable, digital archive."
"Peace Prologue" includes a number of poets and writers — Patricia Weaver Francisco, Deborah Keenan, Jim Moore, Michael Kiesow Moore, Jude Nutter, Tom Sullivan, and Bryan Thao Worra — all of whom write passionately and thoughtfully about issues of combat and healing. The free reading will begin at 2 pm, September 19 in the Target Performance Hall at Open Book.
The Combat Paper Project residency, presented by Susan Hensel Gallery and MCBA, will run from September 21 – 28. On Friday, September 25th, the artists of Combat Paper, the Warrior Writers Project, and others will share poetry, personal experiences, and visual artwork. During the week, Combat Paper artists will also design and print new broadsides at MCBA and display their artwork in the windows of the Susan Hensel gallery and at Carleton College's art gallery. Residency activities will end Saturday, September 28 with a bookbinding workshop led by Drew Cameron and Drew Matott. (Find a full schedule of Combat Paper Project events on the MCBA website)
______________________________________________________
About the author: Alison Morse's poetry and prose have been published in Natural Bridge, Water~Stone, Rhino, Opium Magazine, The Potomac, Flashquake, and other journals. Her short short story, "The Apartment," was a 2009 mnartist.org miniStories competition winner. She is one of three authors commissioned by Robyn Awend to write new poems in response to her solo installation at Form + Content Gallery in January 2010. Alison also runs TalkingImageConnection, an organization that brings together writers, contemporary visual artists and new audiences. The next TalkingImageConnection reading will be at the Soap Factory on October 9.