FRINGE SHORTS: "You're No Fun" presented by Bedlam Theatre
Christy DeSmith is reporting back on a handful of this year's Fringe offerings for mnartists.org. This dispatch offers her take on Bedlam Theatre's satisfying farce, "You're No Fun."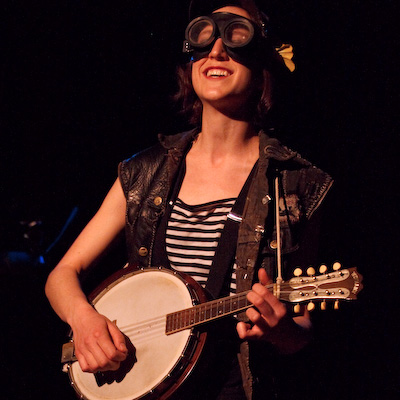 This postmodern musical is packed with laughs. Written by playwright Savannah Reich and composer Phil Bratnober, and directed by Samantha Jones (who is also listed in the program as the stage manager—yessir, I love the scrappiness of Fringe), You're No Fun is an hour-long joke about contemporary romance.
Kat Wodtke plays Annabel, a tortured, underfed theater artist who sucks on 100s and has unshaven armpits. In an introductory monologue, Annabel tells us she has always admired the work of Beckett and Ionesco; but falling in love has prompted her to stray from her natural inclinations—she has penned a cheesy musical about her ex-boyfriend. "I'm fucking Neil Simon," she cries. This is, of course, a far cry from emulating her original idol, the feminist playwright Wendy Wasserstein.
And here's where things get really funny: Annabel and her ex, like lots of couples nowadays, are grossly mismatched—they belong to different subcultures. She's a volatile theater artist; in fact, she likely entered the relationship for the sole purpose of milking it for material. He, on the other hand, is an un-showered anarchist.
Luc Parker plays Annabel's ex-boyfriend Will as a badass modern-day hobo who, clad from head-to-toe in black with a bandana to match, looks like a genuine member of the Black Label Bicycle Club. And he might be! In fact, I Googled Parker and quickly learned that this role isn't much of a stretch—the moniker on his MySpace page reads "Luc The Drifter."
Of course, Will is an anarchist. He doesn't believe in roads, jobs, or—least of all—theater. (Gasp!) But as the play progresses, we learn he is, in fact, a rather tenderhearted fellow with simple desires. ("I like eating the hell out of a really good sandwich," he tells the audience.)
The play begins, hilariously, when Will comes looking for Annabel around the theater where she usually works. Instead, he finds a gang of hammy actors who are in the midst of auditioning to play him in Annabel's new musical. (At this point is a nice, little jab at the anachronism of so much theater: these actors-in-waiting are dressed as depression-era hobos—embodiments of those caricatures you can find on vintage cans of Hobo Soup. Will, however, is every inch the badass man in black; when he so much as speaks, the effeminate thespians cower. But they're not so cowed that they can't sing—which they proceed to do, on the topic of Will, with bold, booming voices:
"People like you should be euthanized/
My only problem is your big brown eyes."
As Will learns more about Annabel's play, he becomes concerned about his portrayal. He doesn't want to be a bad guy. He does, it seems, want to right things with Annabel, but she's so busy with her musical that she doesn't have time for a tête-à-tête. And so the silliness unfolds, often with hilarious results.
In all, this farce was a very satisfying Fringe experience. In fact, my only quibble with the production was technical: at times, Gabe Heller's over-amplified keyboards drowned out the singing. Thanks to that, I missed a few of the punch lines. But still, I was laughing far more often than straining to hear.
About the writer: Christy DeSmith is a former editor at The Rake. She is also a freelance theater critic and was recently named an affiliated writer for 2007-08 by the Theatre Communications Group and American Theatre magazine.
What: You're No Fun by Bedlam Theatre
Where: U of M Rarig Center Theater Trust, MN
When: August 2, 3, 4, 8 & 9 (click here for specific performance times)
Admission: $12 (plus a $3 Fringe button)
Check back regularly throughout the Fringe Festival for more short reviews on mnartists.org, sent in from our intrepid performance critics