FRINGE SHORTS: "The Attic Room" by RE/Dance Group
Camille LeFevre raves, "After years of watching dance at Fringe and writing aimed at encouraging the almost-there, it's a joy to discover a fully-formed show that, even in its youthful vigor, engages the intellect and resonates with the heart and spirit."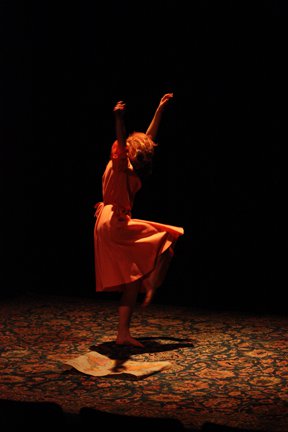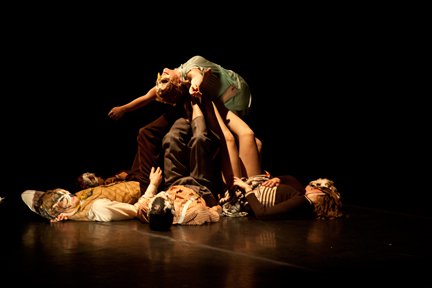 AFTER YEARS OF DANCE WATCHING AT THE FRINGE, and writing reviews that aim to encourage the so-so and almost-there, it's a joy to discover a fully formed performance that, even in its youthful vigor, engages the intellect and resonates with the heart and spirit. The Attic Room, by the Chicago-based RE/Dance Group, is that piece. Mysterious, even haunting, the piece — "a 45-minute dance theatre work in 26 segments" to be exact — is an interspecies exploration of memory that lightly, but evocatively, illuminates something very human.
The six performers, wearing feathered and beaked owl masks, occupy what appears to be a sort of nostalgia shop, like a flock of pilgrims engaged in the pursuit of knowledge… perhaps even wisdom (as the masks seemingly signify). What are they seeking? A map frequently appears, as do small lamps, leather-bound books and tiny white origami birds flown into flight by a fan. In the hands of our creatures, these objects transmutate with graceful simplicity: The books turn into steppingstones, boat oars, and a turtle carapace; the rolled-up map becomes a spotting scope.
The performers move in unison, as if of one mind, migrating from one vignette to the next in search of some always-elusive place. When they begin to pair off, or set against one another with increasingly aggressive posturing, the others look on with genuine curiosity — as if observing their species in the midst of an evolutionary moment.
There are stories of memory loss, of becoming lost at sea and sinking in a small boat. Anger and affection are both leavened with Streisand show tune. The heroine, in her salmon-colored dress, squeals with delight when tossed aloft; a couple fends off their pursuers by deftly rolling up in a rug. Tableaux created with the simplest of gestures assemble and disassemble, as the choreography shifts, circles, and courses with poetic intention.
What does it all mean? It means that RE|Dance, directed by dancers Lucy Riner and Michael Estanich, is an emotionally intelligent, creatively savvy dance company to watch.
______________________________________________________
Related performance details:
The Attic Room by RE|Dance is on stage at Intermedia Arts in Minneapolis. Shows are Saturday, 8/6 at 10 pm; Sunday, 8/7 at 2:30 pm; Wednesday, 8/10 at 5:30 pm, and Saturday, 8/13 at 8:30 pm.
Check back regularly throughout the Fringe Festival for more short reviews on mnartists.org, sent in from our intrepid performance critics on the scene.
______________________________________________________
About the author: Camille LeFevre is an arts journalist who writes frequently about visual art and architectures.