A Field of Intention: Installation at Midway Contemporary Art
"Alicia McCarthy; and Markus Lunkenheimer and Lucas DeGiulio (with Chadwick Rantanen)." The show runs January 3-26 at Midway Contemporary Art.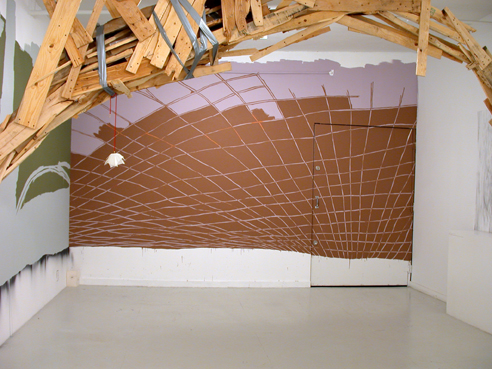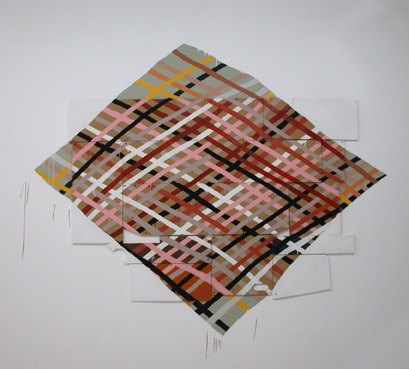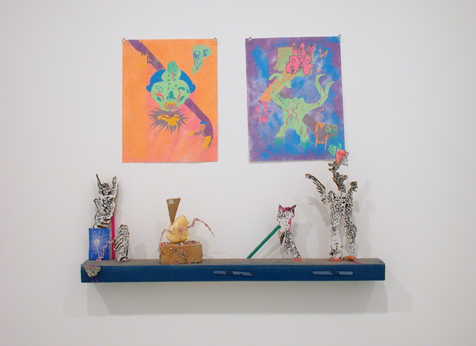 It is difficult to discern at times whether the general untidiness of this show is the result of the artists' studied strategy or of mere indifference. Scraps and shards of found junk proliferate, filling the two rooms dedicated to works by Alicia McCarthy and the team of Markus Lunkenheimer and Lucas DeGiulio. Amidst the randomness, one senses the explosion of energy that in part stems from the show's spirit of collectivity and contingency: McCarthy's work bears the collaborative traces of the San Francisco Mission group (associated with Barry McGee and the late Margaret Kilgallen), and Lunkenheimer and DeGiulio are joined by five fellow artists in what appears as both an orgiastic celebration of excess and a missed opportunity.
Improving upon the mostly-forgettable back room of Lunkenheimer et al., which houses shoddy assemblages of trashy materials (corrugated cardboard, plastic bags, rotting food, etc.) that clumsily play with abjection, McCarthy's work merits a more sustained consideration before being condemned for not rising above the din. Two wall-sized abstractions painted in muted tones dominate, their relative serenity countered by smaller installations composed of cast-offs from a dingy urban ecology: plywood scraps and crude framed images, abutting each other like tectonic plates, and personalized with coffee stains and nail-head patterns.
The randomness of these assemblages apparently channels the randomness of their origins, but evidence of McCarthy's creative mediation is rather thin. More successful is the wooden arch that spans the room, a sheaf of kindling, splinters, two-by-fours and one-by-sixes, haphazardly fixed to itself and the walls with unapologetically unconcealed wood screws. Rising with the tattered dignity of child's first attempt at building a treehouse — it's a cute effort, even if you shudder at the kids actually climbing into it — the arch is somehow defiant merely by managing not to collapse. In this case, chance is on McCarthy's side.
McCarthy's assertive excercises in randomness are stabilized by the show's quietest piece: Amanda Eicher's "What is square and what is round." Thrown up as an afterthought while Eicher was helping with McCarthy's installation, the piece is a closely-drawn series of vertical pencil lines that, in their concentrations of light and dark, resemble a tightly grained piece of wood. Toward the bottom, a few of the lines veer from the vertical axis: imagine a Jenifer Aniston haircut nearing a field of static electricity. Eicher's cursive caption promises "what is straight and what is soft and it changes"; the order of "straightness" is overthrown when these accidental curvatures intervene, changing the character of the whole. Eicher, deigning to represent the order from which her curves are a deviation, thereby manages to better illustrate the experience of contingency and collectivity than the strained efforts of her colleagues, who seem largely content with mounting chaos upon chaos.
The show "Alicia McCarthy, Markus Lunkenheimer, Lucas DeGiulio (with Chadwick Rantanen)"
runs January 3-26 at
Midway Contemporary Art
2500 University Avenue Ste C2
St. Paul, Minnesota 55114
651.917.1851
midwaycontemporaryart.org