NEMAA Artist Series: Aesthetics of Thrift
Susannah Schouweiler profiles Richard Simonsen, whose paintings and assemblages of found wood and metal use the mediums of rust, time, and weather to make handmade treasure from the detritus of industry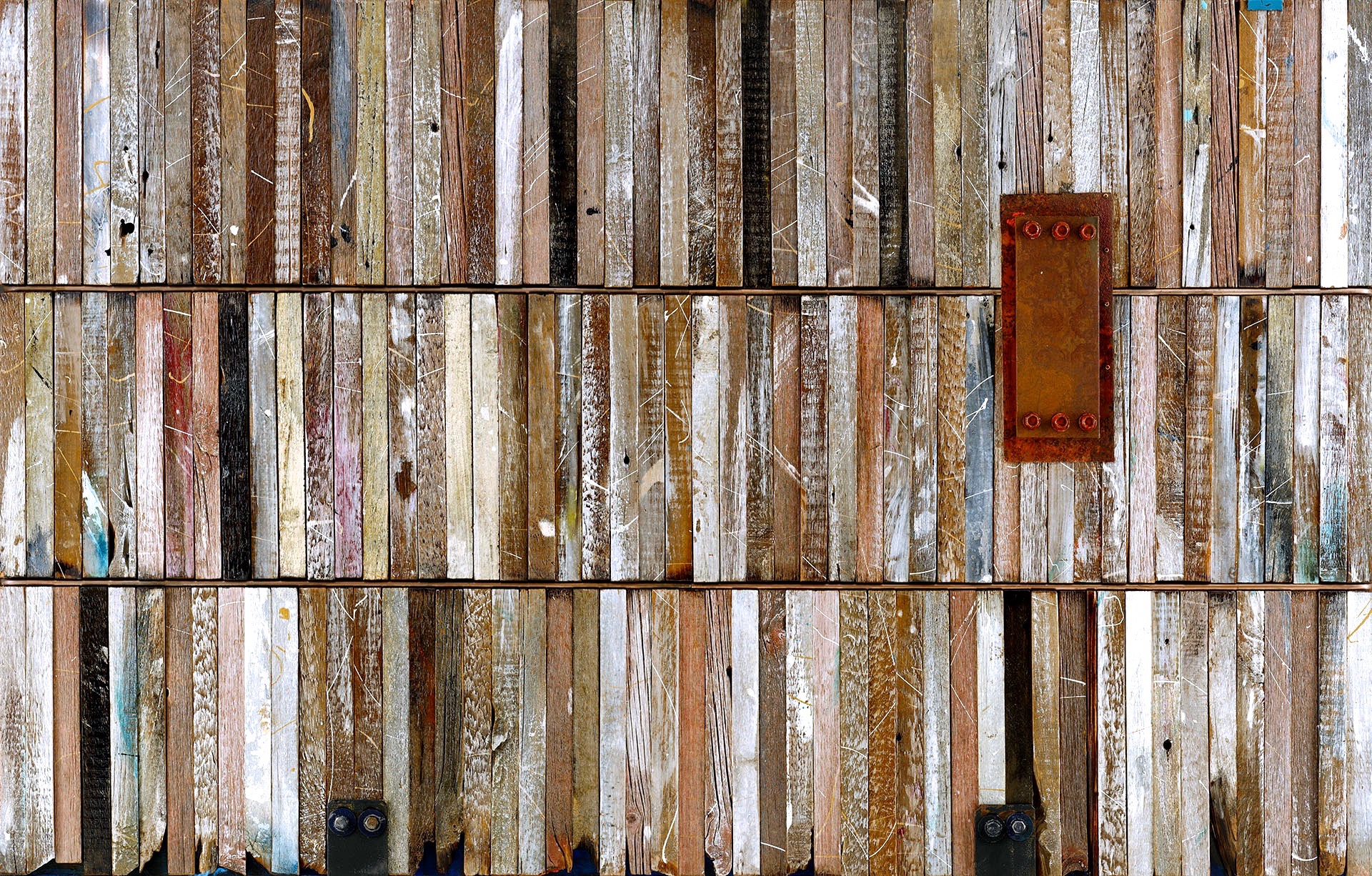 introductionThis is the sixth in a sponsored series of articles featuring member artists of Northeast Minneapolis Arts Association, a non-profit arts organization that works to build a more vibrant, diverse and economically healthy community through the arts.
---
Richard Simonsen's Northrup King Building studio is a comfortable and well-ordered space, his most recent artwork thoughtfully exhibited on the walls. There are no signs of works-in-progress, no piles of materials or projects in flux in the generous public areas; his work space here is confined to a small back room, curtained off from view. Simonsen has created from his studio a posh showroom, tailor-made to entice gallery hoppers and arts-interested shoppers. "I try to rotate the work often, so that visitors always have something new to see," he says.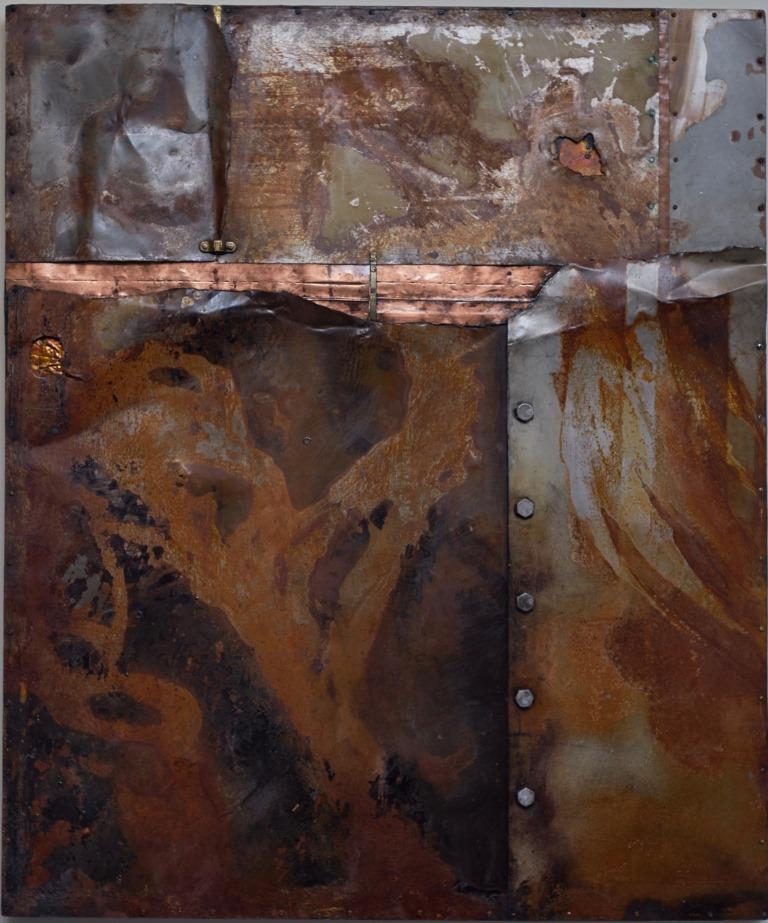 His thickly textured, abstract assemblages of found metal and reclaimed wood reward close scrutiny: battered metal signage, abused and artfully mottled wood, cast-off house numbers whose placement seems to want decoding. "A guy came in one day and saw the numbers in a lot of these pieces and said, 'You have a real affinity for 3.'" Simonsen laughs. "People always want to read some kind of story in the work, but it's not that. I just had a bunch of these old numbers to use up; I just like the font." He says people look for narrative in his pieces, some kind of message. But, for him, it's all about composition: the harmony of sturdy, straight lines; the complementary hues of weathered metal's patina as offset by the ash gray and shades of russet and chocolate in old, warped wood. "Composition is what's important to me – that and the use of the materials, how I can combine them in interesting ways."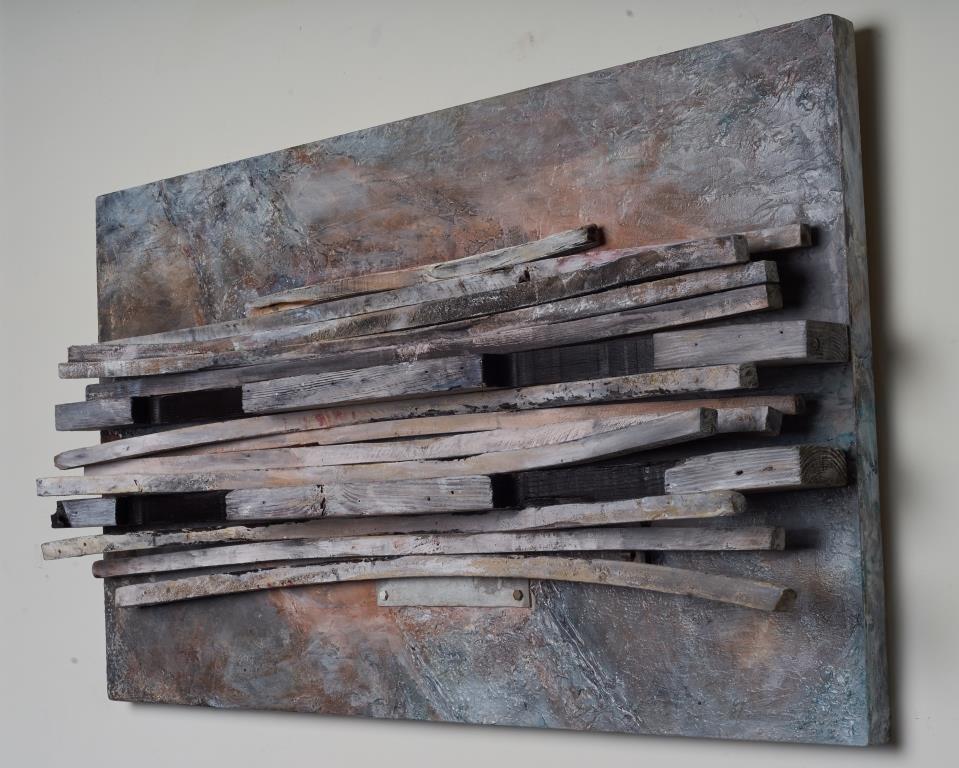 Simonsen has lived in Minnesota for 27 years, he says. For much of his life, he made his living in the furniture business, involved in everything from design and manufacturing to sales, traveling through Nebraska, Minnesota, the Dakotas, and Iowa for work. But he's always made artwork, too. He says, "I took art classes at the Joslyn Museum as a young kid, growing up in Omaha. I loved Rauschenberg, Jasper Johns, Louise Nevelson, Dali's melted clocks." He goes on, "I started painting in oils, but then I found acrylics and never went back. I've always been interested in texture – first, I played with it using string or paper; but I found that wood and metal really gave me the variety and substance I wanted."
Simonsen says he's always made pieces for himself, for friends and family. "I even sold some work in college," he says. But he didn't pursue anything like full-time creative practice until after his kids were grown, looking instead to more secure ways of supporting his family. "But when I retired, my wife told me it was time," he says. And so, he turned his attention to making art full-time. And his furniture business connections and marketing savvy have stood him in good stead in establishing his artistic practice and exhibition contacts. He's held onto relationships in the design and furnishings scene, with work on view in some high-end showrooms, like Rosenthal Furniture. He brings years of sales savvy to his approach with galleries – sussing out the customer base, which of his pieces would best fit each audience and other artists represented, reinforcing the works' corners so his pieces are easy to transport without damage.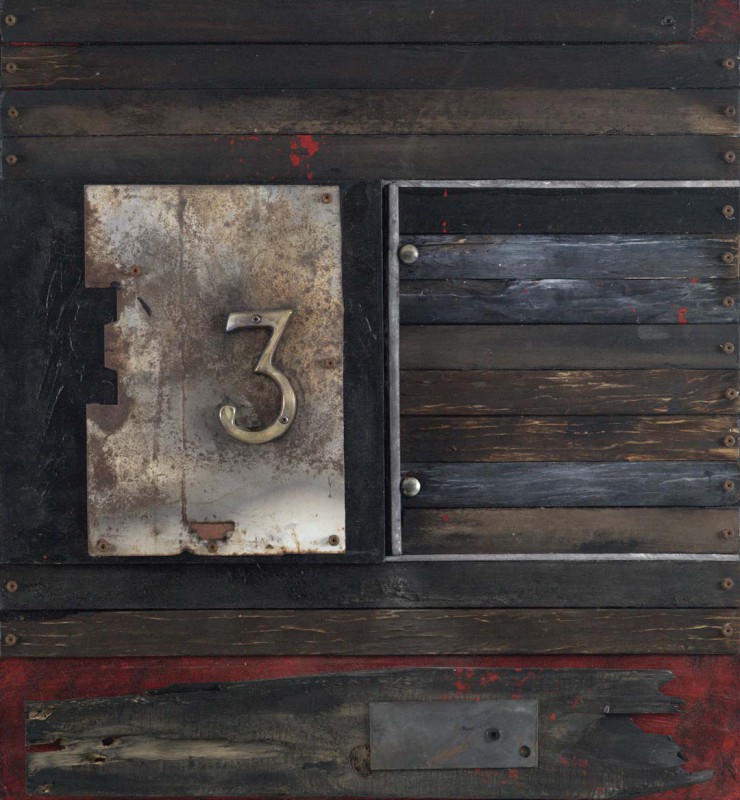 "I make work for myself, but I'm always aware that I want it to have a life outside my studio, too. I need to make room, if nothing else! And I know other people will eventually be living with these pieces, so I'm always interested in what they're responding to."
There's an ethos of thrift driving Simonsen's work, a desire to revive purpose and beauty from materials that have been otherwise discarded. He wastes nothing: wood reclaimed from a shipping pallet is broken down for a sculptural piece, and the irregularly cut leftover pieces turn up in something else; cuttings and woodchips from that might be then used for textural interest in an acrylic-on-canvas work. He says his garage at home is where he keeps his stash of materials: piles of scrap metal and wooden wine crates, pieces of pallets, rusty rivets and washers, interestingly broken bits of machinery, eye-catching bottle caps.
He's an artful magpie, collecting and repurposing the detritus of industry to make of it a handmade treasure. He makes an aesthetic virtue of economy; his mediums are rust and time and weather, as much as they are wood and metal. "Look at the creases and patterns of rust on that old sign," he says. "I could never do that by hand – can you imagine the force you'd need? But the lines and folds of it are beautiful. I love the challenge of finding new ways to combine these materials."
---
Related links and information: You can see Richard Simonsen's work on view in his Northrup King Building studio, Dock 7, during the NE Minneapolis Arts District's First Thursday events, as well as in Art Force, Gallery 360, Rosenthal Furniture, and other galleries here and nationally. See more on his website: www.simonsenart.com.
This article is commissioned by the Northeast Minneapolis Arts Association and funded by a grant from the Minnesota State Arts Board. Find Richard Simonsen's profile on NEMAA's website.