How to Watch the Sky
Though all of Christopher Baker's latest installations rely on clever use of new technologies, there's something old-fashioned and deeply humane just under the surface of these works, examining the proliferation of images we create and the machines we use to watch them
Before Christopher Baker began his art practice in earnest, he studied computational neuroscience at the University of Minnesota. Look at his body of work, and it's clear his fascination with the vagaries of human experience in a digital world remains a central concern.  Specifically, he's interested in how we relate to one another and to our very sense of self, when so much of our lives is performed, and then parsed for meaning, by way of digital media and networks.
Baker is particularly adept at rendering in tangible form the emotional ephemera we generate, en masse and individually, online. In the heyday of vlogs, he created an immersive audio-visual installation (Hello World!, 2007) from 5000 personal YouTube diaries, collected and offered for view as a noisy mosaic projection of voices and faces –a surprisingly poignant tribute to new media put to use for the sake of an age-old yearning to be seen, heard, known. A couple of years later, he created an installation of 30 thermal printers, all monitoring the micro-messages of Twitter for emotional utterances (Murmur Study, 2009): these personal updates and reflections were then printed in cascading ticker-tape falls—all our collective ums, mehs, and grrs—making their public expression ( it's all too easy to forget just how public) both concrete and unmistakable.
And with his most recent work, on view at Bethel University through December 16, he's again exploring the "interconnectivities – visible and invisible—present in the modern urban landscape." In his artist statement, Baker goes on: "Primary to the task is an exploration of the ways we imagine and represent ourselves before potentially massive audiences and the ways we navigate and abide in public space." Though all the new works rely on clever use of new technologies, there's something old-fashioned and deeply humane just under the surface. There's an ethos of reclamation in the undercurrents here: a re-insertion of the individual, of personal agency and point of view, in an impersonal sea of crowdsourced images and information.
Dominating one wall of the gallery is The Skies Above Me, comprised of 21 columns of images. They are photos, sourced from Google Street View, taken in urban residential locations; all are shot from ground level, looking skyward. Each column of photos documents an address where Baker lived for a significant period of time. Various urban locations in Virginia, Missouri, Minnesota, Hungary, and Illinois are represented; the number of shots, all shown from the same vantage point, in each site's column is determined by the snapshots available over time for each address via Google Street View at the time of the show's installation. There's a disarming intimacy in this presentation of otherwise impersonal photos: a sense one is a visitor in another's personal history, and aware of time passing – in the varying seasons, the difference in light and cloud cover from photo to photo. And there's a distinct sense of visitation in seeing the images so organized, like a borrowed memory of what it would be to stand there, under those skies, alongside the artist.
On the opposite side of the gallery sit three prototypes of wearable "sousveillance" gear, which is studded with cameras shooting video of the gallery in real time. One could wear them over workaday clothes – a black felt scarf, a charcoal gray, woolen hood, a rather dangerous looking spiked vest. The footage-in-progress from each prototype, all of which are mounted on dress forms, is simultaneously projected on a wall adjacent in the gallery, such that one can't help but be aware of oneself on view, moving about the space. Alongside those projections is a short video showing the S.C.A.R.F. prototypes in action in Chicago's Millennium Park, around the famous reflective "bean" of Cloud Gate. The work asks us to imagine the possibilities of more intentional, democratic use of surveillance technologies. If we all have cameras, if we all more deliberately document our experiences as we live them, might we consciously generate a more complete, more inclusive record of these shared moments in time? Such a record would be prismatic, perhaps even universal: a collective record of experience as seen through the lenses of idiosyncratic small histories, gathered day to day as we all move through the world.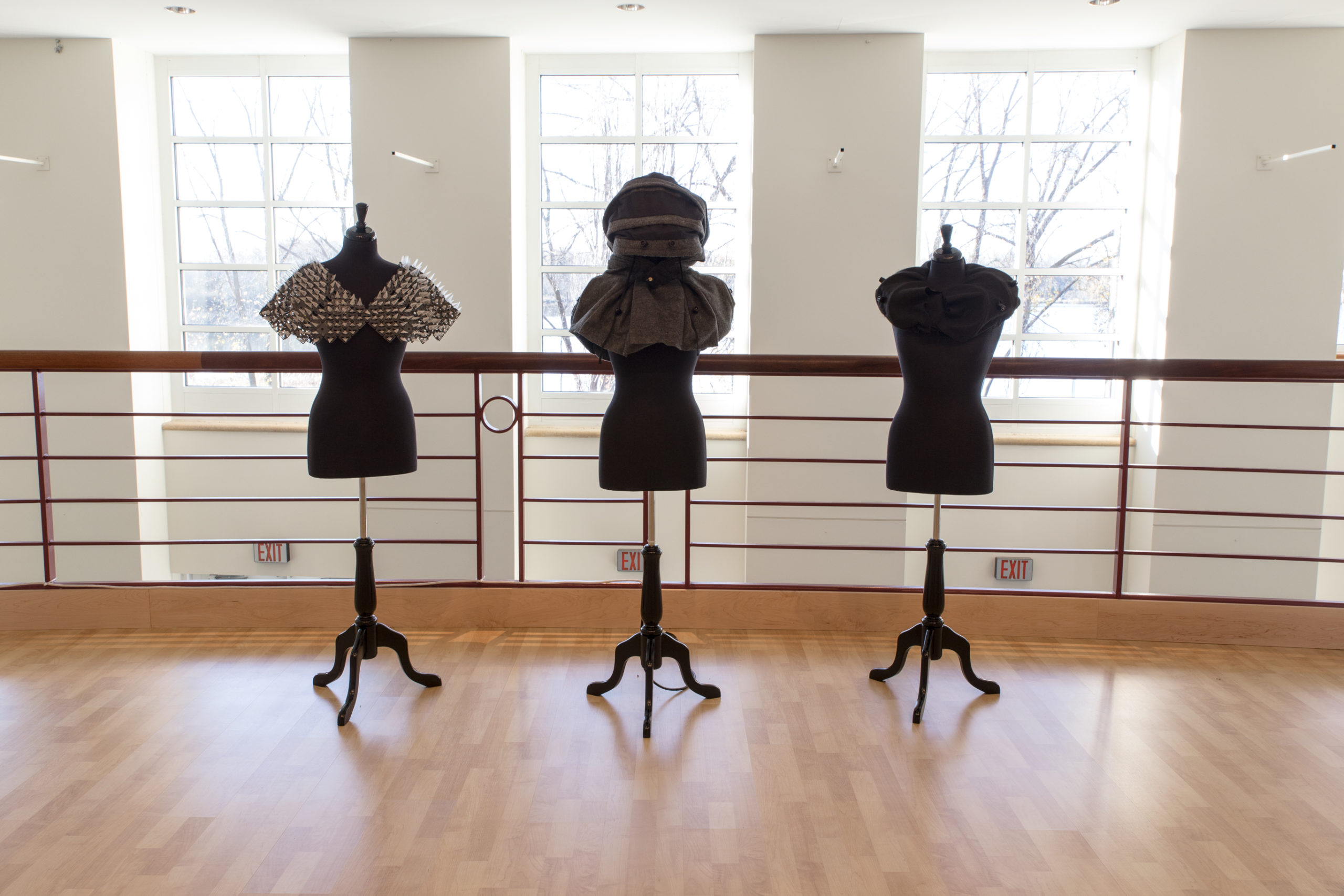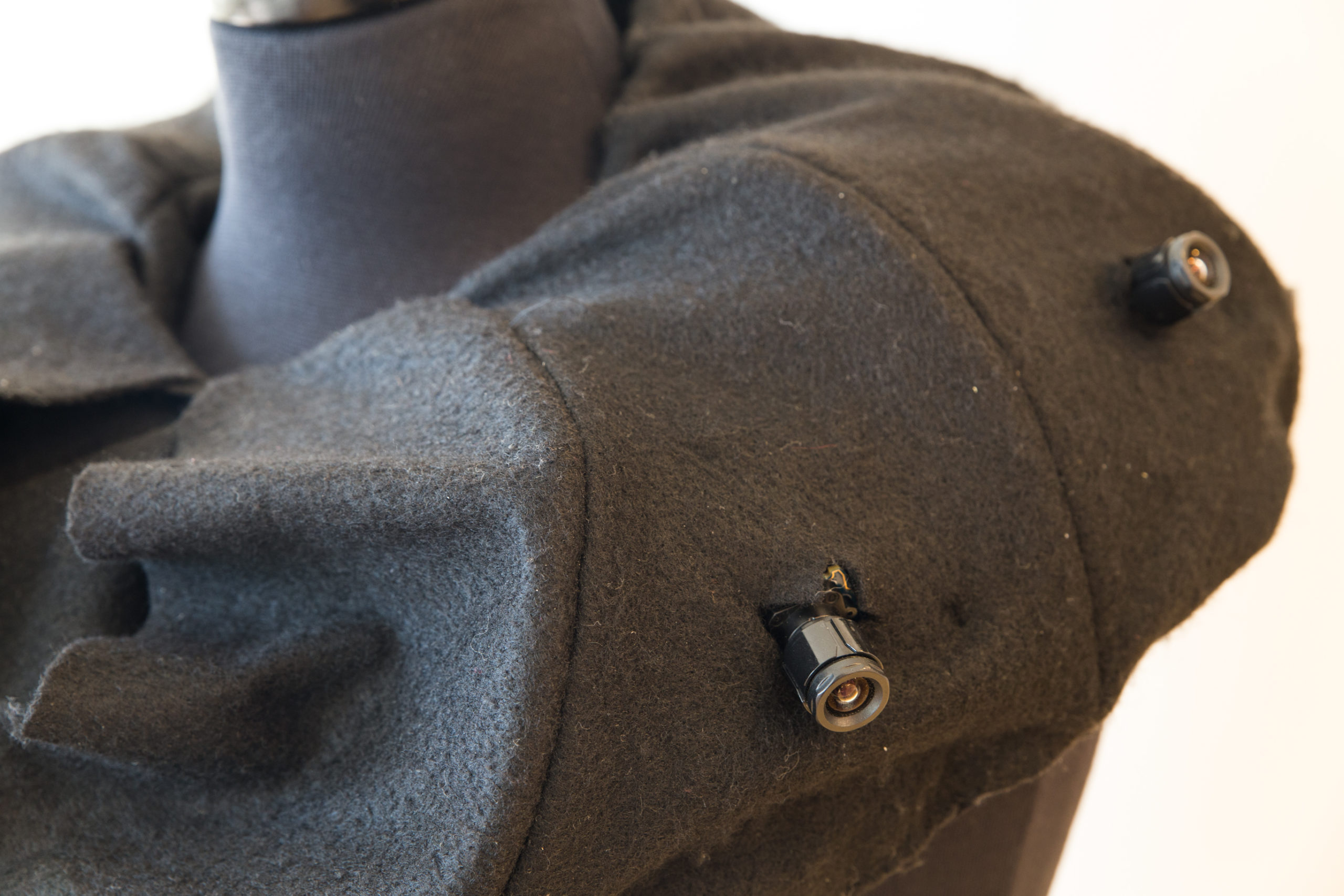 Another project, Picture Sky (Baker's collaboration with artist Karolina Sobecka), goes one step further: by way of an app on their smartphones, observers in designated locations (so far, Mexico City and Tel Aviv) claim a set of GPS coordinates and aim their cameras to the clouds at a set time, precisely the moment a satellite is flying overhead to capture an image of the same location from orbit. The resulting crowdsourced images from this human array of observers on the ground are then uploaded to the project's website and stitched together to create an inverse view of what the satellite sees, resulting in images of the same cloudscape as seen from both above and below.  
In an artist talk in late October, shortly after the opening of the exhibition, Overhead, at Bethel University, Baker says: "In the context of digital networks, like Facebook and Twitter, say, my self is not so much a discrete unit, but rather a node, a collection of referential relationships. And I'm uneasy with the idea of collecting people and relationships as reference material rather than as one-on-one encounters." He goes on, "I'm interested in how technologies change the way we communicate with each other, and how the medium we use changes our expectations for what we hope for from our relationships. For example, sending a text message changes not only what you say, but the very nature of the thoughts you think."
"We're constantly looking for ways to enrich those modes of communication," he says, "from emojis to virtual reality. But I'm concerned that our expectations of what's possible in relationships are becoming impoverished of nuance, that we're denying ourselves possibilities for richness in our connections to one another."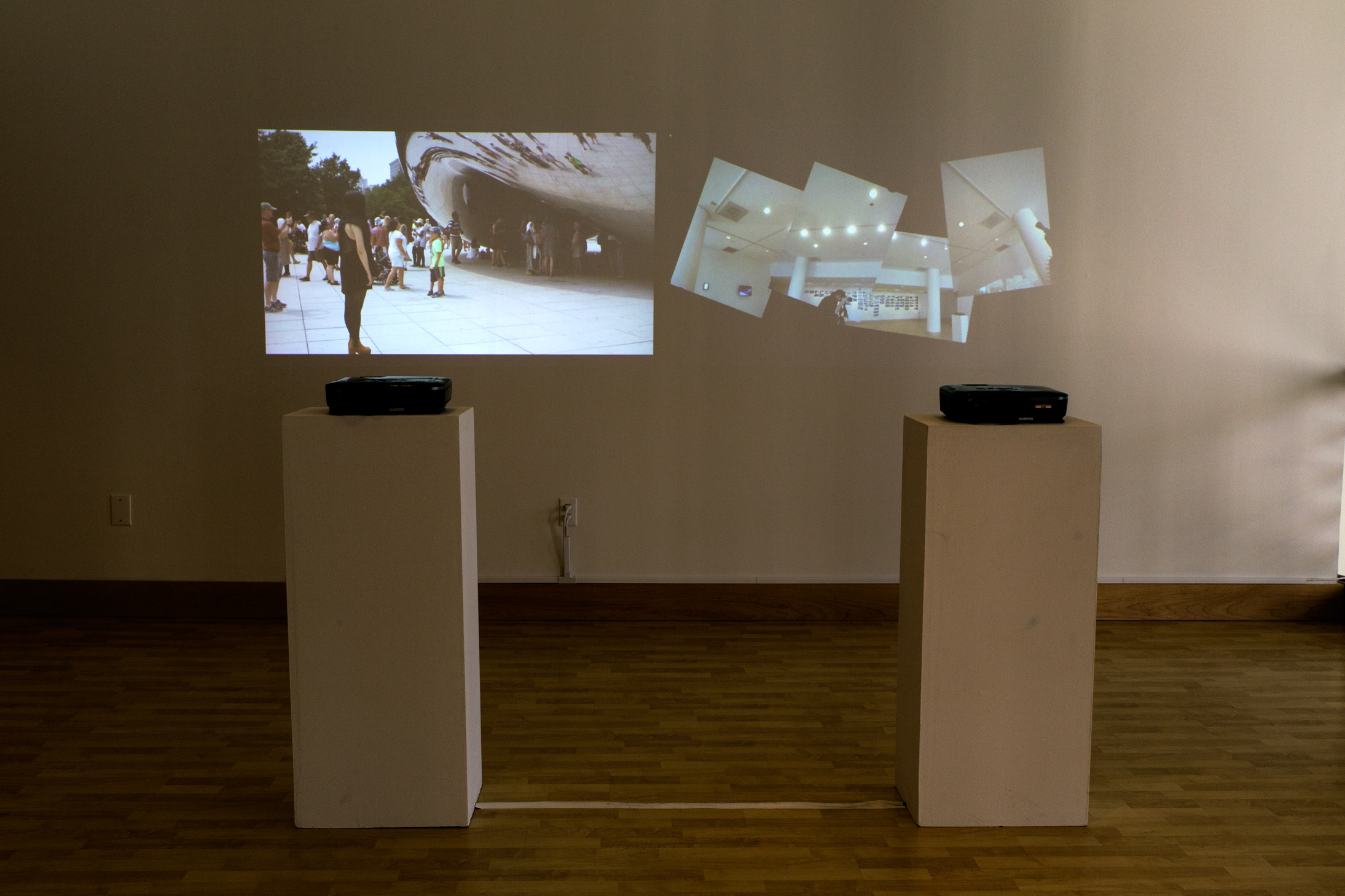 ---
Related exhibition details: An exhibition of Christopher Baker's work, Overhead, is on view in Bethel University's Olson Gallery through December 16, 2016. For more information about Baker's projects and ongoing work, visit his website: www.christopherbaker.net.