An Exercise in Sensing Emotions Through Plants
Jess Hirsch, artist and founder of the Women's Woodshop, explores the power of plants to reveal our intentions and transform our emotions through meditation.

I start my day gathering a bouquet of flowers from the front yard: peony, fern, and clematis. I put the plants together based on intuition, like pulling a tarot card. I pulled the plants that called to me, leaving the spiderwort and geranium for another day.
Peony inspires feelings of abundance and gratitude—not excess, but the sense of calm we can experience when we feel our needs are met. Scarcity mindset no more.
Fern brings a connection to others: a reminder that we are not alone in the world, but can join the greater community through joy, love, and dance.
Clematis is for dreamers, for future thinkers, for those not entirely rooted in reality. The flower brings us back to earth and anchors us so we can live in the present.
Given the purpose of these three plants, you may be able to surmise my current mind state: a dreamer that over-plans for the future, works in isolation, and is quite anxious about stability. Being a self-employed artist, it is a recipe for these three mind states. It is no surprise these are the plants I pulled. Even though I started my day with a semi-calm mind, the plants remind me where I need to keep working. So I place the bouquet on my work desk.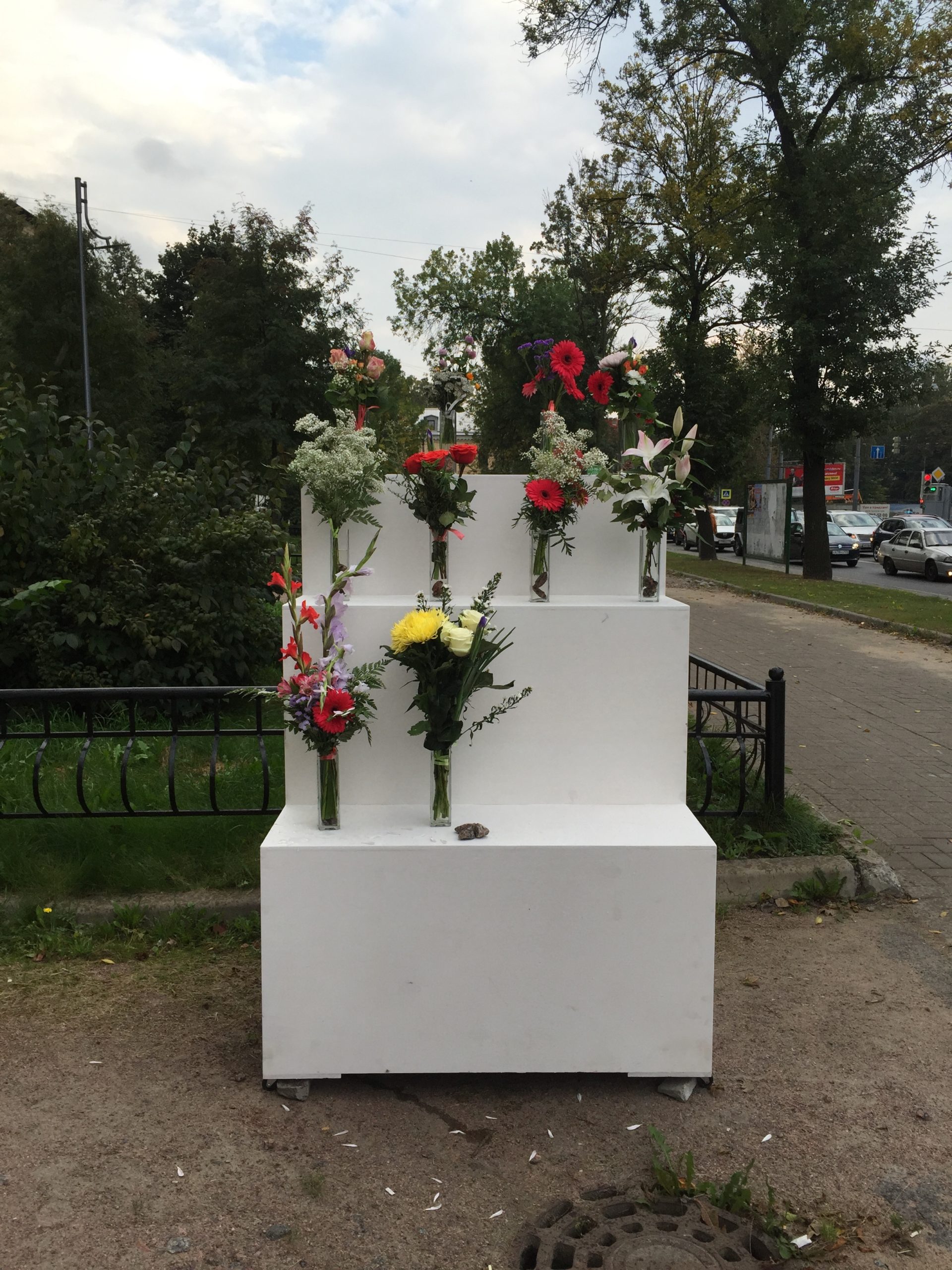 In 2015, I began the Energetic Flower Stand, a street-side flower stand with just 12 bouquets for participants to carry on a contemplative walk. This event took place in St. Petersburg, Russia at Art Prospect. A white, three-tiered pedestal on wheels sat on the corner of a busy street and sidewalk between two small, grassy parks. A bus stop brought a steady flow of quizzical pedestrians with the occasional curious participant. The stand serviced mostly visitors to the festival. As each individual strolled up to the stand, I offered the individual to use intuition to select the plants that called to them. Many opted out, so the alternative was to select a bouquet from a Feelings Menu. Humans like to control their destiny. They want to use language to understand their experience. The menu was in both Russian and English and included: grief, loneliness, anger, insecurity, envy, fear, happiness, compassion, joy, gratitude, excitement, and love.
Once selected, the participant had a designed walk through the neighborhood, approximately 10 minutes of alone time with their flowers. When folks returned, they placed the flowers back on the stand. Many of the experiences were private, not shared, personal—but occasionally a participant would explain the delicate emotions that surfaced during their walk. One woman returned in tears, carrying the bouquet of loneliness. She had not been aware of the sadness she had been carrying. I hugged her and offered what I could, but the plants were doing the work.
I have been invited to do this piece again, but with the possibility for the individual to make their own bouquet and take it home—to give the people the flowers and let them go. So I have been formulating a ritual.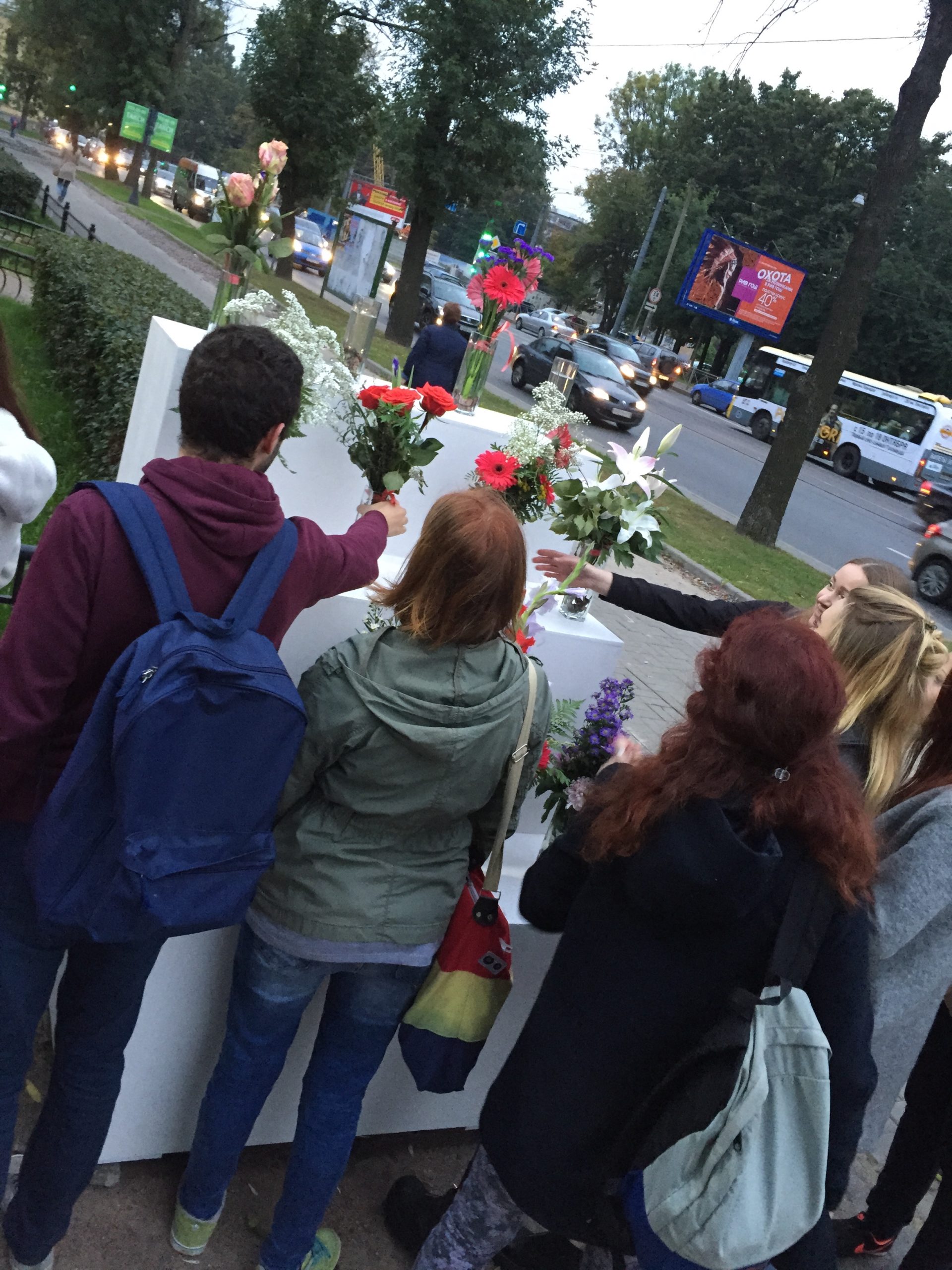 The steps go as follows:
Anchor yourself through meditation, with a focus on opening your heart space. Close your eyes, take 3 deep breaths, and continue on breathing into your heart space for 5 minutes. (This could be in your home, your office, your studio.)
From that grounded heart space, walk outside and pick 1-3 flowers or plants.
Avoid language; try not to name your flowers. Make your choice based on attraction and intuition. *If you need to, give the plant a new name, a personal pet name just for today.
Play with the bouquet arrangement. Compose based on form, color, smell.
Walk with your bouquet, holding it near your heart space back to your original space slowly, with intention on the plants.
Place your bouquet in a vase, and get back into your heart space and see how your body feels. Are there any new sensations in your body? Do a simple body scan head to toe, and see if you feel any tingly sensations, new aches, heat, or coolness.
After spending some time feeling, allow your intellectual mind to consider what the plants are trying to tell you. Write it down. *If your brain insists on knowing, look up the use of each flower from the Flower Essence Society. Write down what you find.
Reflect on this lesson until the plants die.
That is it for now. Simple. I encourage you to try it. Just see. The plants will do the work. They are here for us. They want to help. They will be the teachers.
So here I sit, with a bouquet of peony, clematis, and fern behind the computer screen. The peony is already dropping its petals. The fern is curling its fronds. The clematis is still proud. There isn't a lesson from the plants that I can share with you through language. It's more of a sensation, a calm, supported connection to the natural world. But there goes my intellectual thinking—it's best to remain in the heart space of feeling the plants.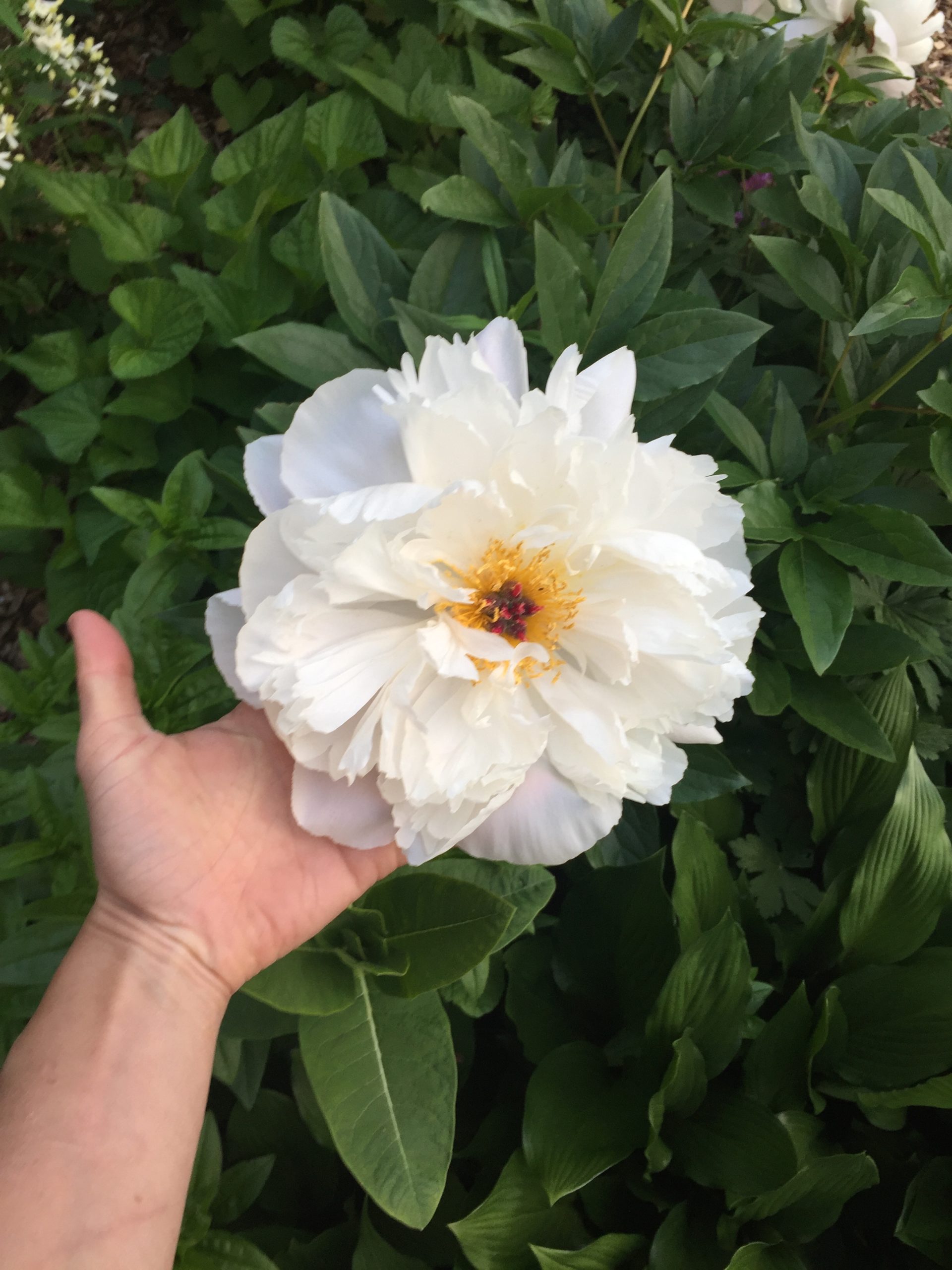 ---
This article is part of the series Seeing Plants: Vision and Botany in Contemporary Art, guest edited by Regan Golden.