(Sense of) Belonging

Eagan Art House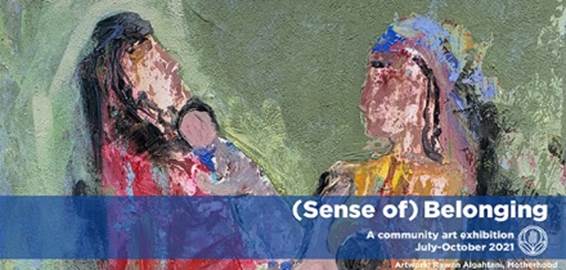 How are we connected to one another? How do you derive meaning from that connectedness?
The Eagan Art House invites you to create or submit artworks for (Sense of) Belonging, our upcoming Summer/Fall in-person and virtual exhibition that explores narratives of community, affinity, and division.  
What is your individual experience of belonging—is it rooted in physical or emotional attachment, geography, culture, faith, your art practice?
Is your understanding of belonging defined by the lack of it– a feeling of distance or displacement?What do you long for to give you a sense of belonging?
How has Covid isolation and being physically disconnected from community altered or deepened your sense of belonging?
Works will be exhibited both virtually and in-person from July 8 through October 5, 2021. Artists have the option to exhibit their work online only. All work submitted to be shown in person will be included in the online exhibition. We welcome traditional and non-traditional media– photography, textiles, ceramics, digital artwork, painting, drawing, etc. We will accept any artwork for in person exhibition that can be safely displayed on a wall and meets display requirements; please feel free to contact us with questions. Both established and emerging artists are invited to participate.
(SENSE OF) BELONGING
Entry Deadline: June 14, 2021 
Artwork Drop off: July 7, 2021, schedule will be emailed 
Exhibition Opening and Online Launch: July 8, 2021 
Exhibit Takedown: October 5, 2021 
Cost: $5 per artist, financial assistance available. Please email us for more information. 
Location: Eagan Community Center, Wescott Library and online 
To Participate in this Exhibit:
Enter by visiting discovereagan.com and clicking "Register & Reserve." Complete artwork registration by searching with activity code #13038001 adding to cart and answering all question fields. Alternatively, you may call the Eagan Parks & Recreation office to register your artwork at 651-675-5500.  
To complete entry, email a high-resolution digital image of each artwork to artexhibits@cityofeagan.com by entry deadline, including title, date and medium. Images should be 1080px wide and at least 150dpi. We can provide guidance on taking quality images of your artwork, please email. 
Bring your wired, labeled artwork to Eagan Art House on Artwork Drop off day. Refer to the Artwork Preparation Instructions for wiring your artwork. We are unable to display artwork that is not properly wired. 
All artists who submit applications can expect to have their artwork displayed if the content adheres to Eagan Art House requirements. Artists assume all risk associated with exhibiting their artwork. Each artist is responsible for dropping their work off and taking down their artwork on the designated days.
Please contact us with questions about how to include your artwork! We are looking for wide diversity of media, and all media are eligible for consideration. Questions about how it can be displayed? Contact us! We are here to help. Call 651-675-5524 or email artexhibits@cityofeagan.com with any questions. 
Closes
June 14, 2021 11:59 pm