RFQ: Public Art for ARCC Nursing and Business Building

Anoka-Ramsey Community College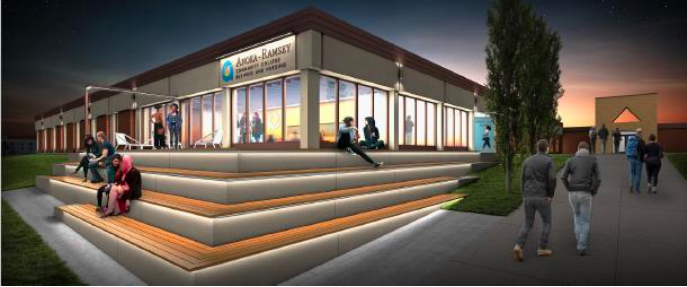 The Art Committee desires original works of art to complement the renovation of the Business and Nursing Building as part of Minnesota's Percent for Art in Public Places. The refreshed building houses all the business and nursing courses and includes modernized and flexible classrooms, simulation labs, faculty offices, a student common space, and an outdoor terrace.
While the Art Committee is open to the artists selecting the best locations for their work, the following public locations have been identified for two opportunities:
Opportunity 1: Exterior Public Artwork; $65,000 budget; commission awarded to one artist or artist-led team
Opportunity 2: Interior Wall Pieces; $20,000 budget; commission awarded to one or more artists or artist-led teams
Goals
The Art Committee desires works from artists that will:
Encompass themes such as water, healing, reflection/perception, community, commonality, connection, celebrate learning, welcoming, partnerships
Create an inspiring beacon for the community of Anoka-Ramsey
Offer an example of artistic excellence to our community members
Offer solace for students
Background
Minnesota State is the fifth-largest system of higher education in the United States. It is comprised of 31 two-year and four-year state colleges and universities with 54 campuses located in 47 Minnesota communities. The System serves approximately 430,000 students each
year. Minnesota State is an independent state entity that is governed by a 15 member Board of Trustees. For more information about Minnesota State, please view its website at www.MinnesotaState.edu.
Questions will be accepted through November 29, 2021 until 2:00 p.m. CST.
Closes
December 13, 2021 4:00 pm