Plaza Park Arts Festival

The City of Brooklyn Park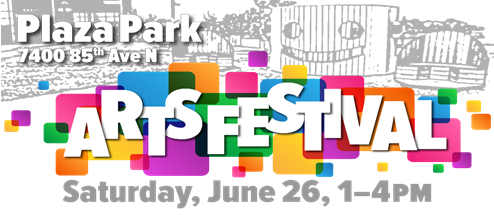 The City of Brooklyn Park is hosting an Arts Festival on Saturday, June 26 from 1-4pm!
The event will be at Plaza Park, the highly visible intersection of West Broadway and 85th Avenue N near the Hennepin County Library in Brooklyn Park, and will feature local artists selling their artwork, arts activities, performances, and food trucks.
It will be free for artists of all ages to participate and artist may keep all proceeds from their sales. However, artists will have to bring your own table, tent, chairs, and anything else you need for your 10′ x 10′ booth. Also, you will have to complete an ST-19 tax form to report your sales and display a valid Minnesota Sales Tax ID certificate clearly at your booth.
Our hope is to have space for every interested artist. If we have more artists sign up than we have booth spaces available, we will select artists based on Brooklyn Park residency, original artwork, and the widest selection of art with different mediums, styles, etc.
If you are interested in applying to display and sell your artwork at the event, please complete the form below by Wednesday, May 12.
COVID-19 guidelines are constantly changing, but we will follow current and up-to-date guidance from the State of Minnesota during this event. Artists will be notified of guidelines before the event.
If you have any questions, please contact Sarah Abe from the City of Brooklyn Park at 763-493-8089 or sarah.abe@brooklynpark.org.
Closes
May 19, 2021 12:00 am